I saw Lumiere mineral makeup
http://www.lumierecosmetics.com/
on Liparazzi's blog (if you don't follow her blog then go check it out, she is on the list of blogs I follow. She is so gorgeous and does so many reviews, although it does mean I end up wanting to buy.....everything)! I wanted to give it a go so had a look at their site. They offer some mini samples to those that want them so I asked for some and they kindly sent me the following items, there is only 1 item which I don't like too much and two that I really love so have made an order for the fullsize items, they take Paypal and the shipping charges aren't bad ($6.00 postage from America so I was impressed).
Lets start with the best, this is my new fave lipgloss and I ordered the fullsize tube today as I got a mini one to test. It is the lumi lips in Machaccino. You can click on the pics to enlarge (oooh look at the teeth I love it, almost Simon Cowell white)! Its like a cross between a liquid lipstick and a gloss, it's not sticky and is well pigmented. I wish it lasted longer but it's easy to apply without a mirror so I just do it at my desk! I am sure you can see the colour below but its a pinky brown with a gold sheen to it, it's not really shimmery just sheeny. It doesn't smell or taste of anything at all which is good. But yes I did get the tester free, but I thought it was good enough to pay for hence I ordered one myself (and it was only $8.50) I just wanted to be upfront due to the 'drama' going on at the moment, I wouldn't recommend anything that I wasn't willing to pay good money for myself.
These are the swatches of the two eyeshadow samples and blush that I received, and I have also now ordered another fullsize eyeshadow and a sample of the blush 'Autumn' since it looks a bit dark so I wasn't too sure whether it would suit me or not, that is one thing I like about their website, similar to the Lily Lolo website you can order samples since it's a bit difficult buying stuff online sometimes.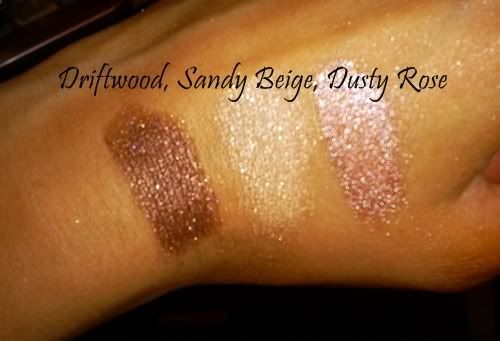 These are the shadows dry

And these are the eyeshadows wet with Illamasqua sealing gel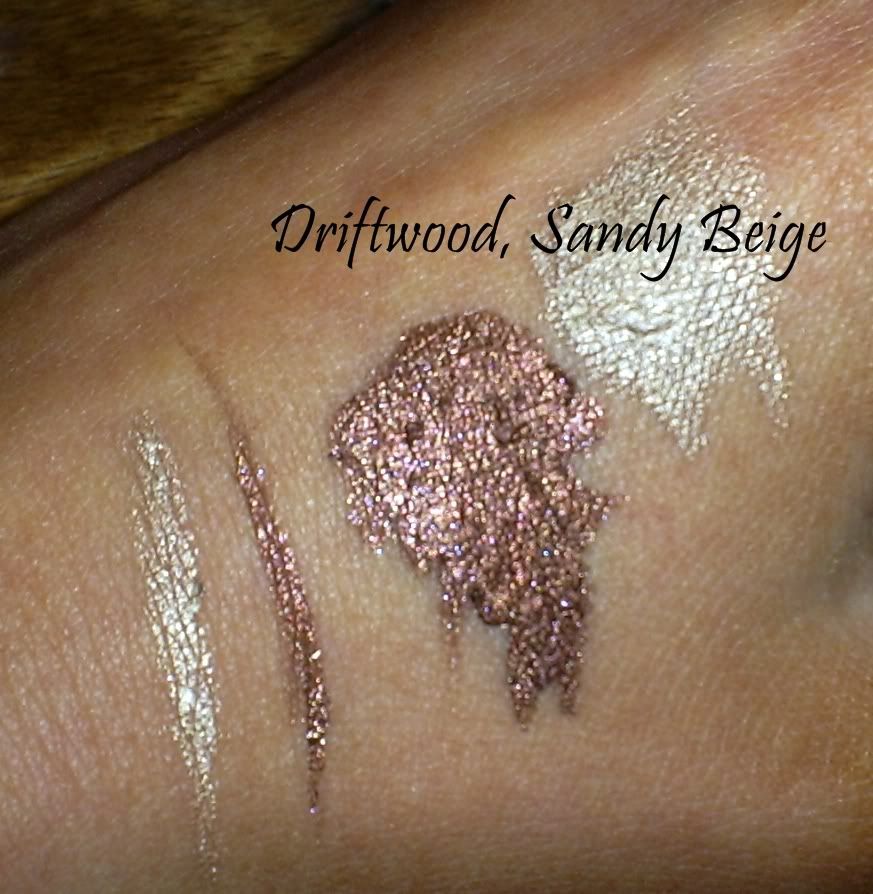 The colour payoff is really good wet or dry and I did this look for work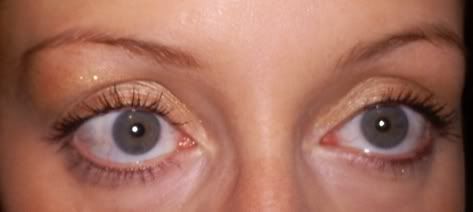 And I used the driftwood as a liner before we went out for dinner tonight

The things that I didn't really like are that their website is a bit weird on some pages, the products are actually a lot better than you would expect from their website if you get what I mean, so they could improve that by making it look a bit more professional. The product I wasn't into was the flawless face which is like the mineral powder/foundation. It just made my face look quite chalky and dry, not very sexy!
So I wouldn't go for that, but everyone is different so if anyone wants me to post them it to try the sample I have is the colour fair neutral, so if you have oily skin this would probably be a lot better for you but my skin is superduper dry. I have only used the sample once and it's in a little pot so it is sanitary just pop me an email or comment below.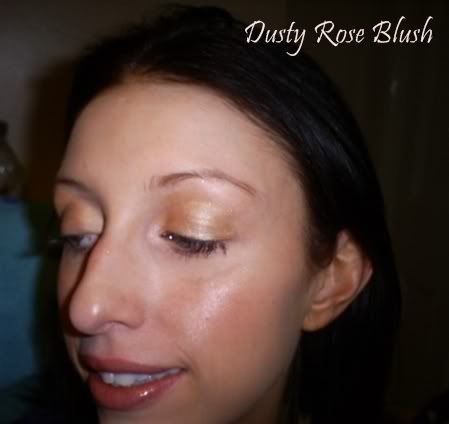 You can kind of see the blush in this pic...I like the colour and the sheen but I am not really sure it suits me. It is also a bit shimmery and I don't know if that suits me either....hmm am on the fence about the blush and I will see if the colour Autumn is any better.

So in summary lipgloss - love it, eyeshadow - like it a lot, blush - ??? and foundation - nooooo!