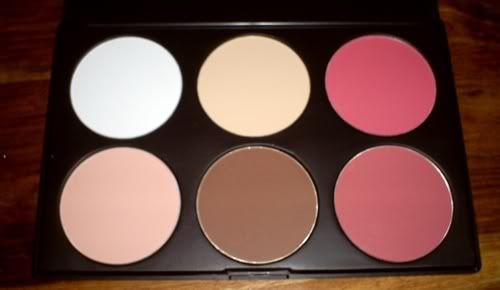 As you may remember I made a Coastal Scents order months ago of some concealer quads and was hoping to have them delivered via Bundlebox,since that never showed up I gave up and did an order directly but this time I ordered this palette for blush, highlight and contouring and I think it is such good quality for the price.

You can order stuff directly from their website here
coastalscents
and this palette cost just under $19 which is a total bargain. The palette style is rather Mac-esque personally I don't think these compare to Mac's quality, I am not saying they are bad, on the contrary this palette is very good quality, but Mac is better in my opinion. And also for $19 you get 6 different colours to try when for that price you could get 1 Mac blush or contour colour so this is great value for money even if it's just to test out different things, and you don't feel you have wasted much money if one of the colours doesn't work for you. I will try and do a FOTD using this so let me know if you are interested in any particular shades. The dark brown is a bit too dark for me personally as I am usually #1 in the foundation colour charts!
Apologies for being MIA lately, I am no longer able to get onto this website via my Blackberry or work computer at lunchtime so as I leave the house at 7am and get home around 7pm-9pm there is not a lot of blogging time available!

Please Digg My Post
Thank you!
Sarah xxx