Before I start this review I had better mention something that you probably can't tell from my normal blog posts....I don't normally mention it because it makes me look like a right weirdo! Buuuut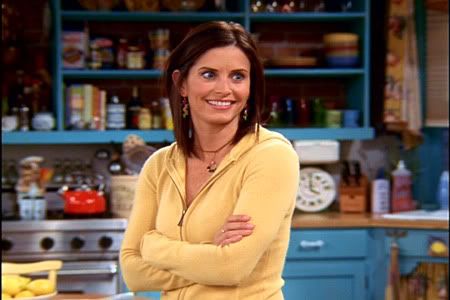 I am obsessed with my kitchen being clean. Not like a bit obsessed but like Monica from Friends obsessed. ....and weirdly it's just the kitchen and bathroom but I think that's because that is where I believe the evil germs to be! So if you do not have the same sort of obsession or you don't think it would be funny to read how insane I might be then I would leave now while you still can!
So like a few of the other bloggers I was sent one of the Method Olive Leaf hand washes to try out, which I was looking forward to. However when I opened up the envelope and found these
Ta Da!
Method Stainless Steel Cleaning Wipes

These are the Method steel wipes for any stainless steel surfaces and

I was all over these like a fat kid on a cupcake!

I have never found anything to get my kettle, breadbin, taps, oven, brabantia bin and draining board so sparkling clean these are seriously amazing!
Yes they are just a packet of wet wipe style wipes and yes I may be slightly anally retentive for caring that my stainless steel breadbin and kettle have smears on them and slightly insane for wanting the outside of my kitchen bin to shine like it was brand new but I like to take care of things and I think this stems from liking to take care of my appearance to liking to take care of my belongings. Either that or I am secrely a stepford wife..hmm?
Anway I don't care cos my kettle is sooo shiny!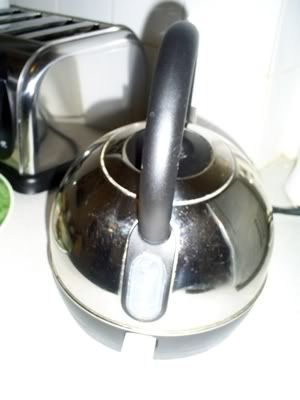 Apart from the fact that these actually work unlike a lot of cleaners Method is actually a company that makes biodegradeable products. I never really thought about it before but if we use baby wipes, wet wipes, cleaning wipes, cleanser wipes ...where do all of these wipes go? I did not realise that regular wipes were not biodegradeable but these method ones are which means that they are not as harmful to the environment as other cleaning wipes, so a big thumbs up to method for making people (like me, with no idea) aware of that.
They have a whole selection of wipes for other surfaces as well as stainless steel (leather and wood are just two) and they are sold in lots of places like Tesco, Asda and some Boots stores, I personally love this website as you can get lots of Eco items in one place
goodnessdirect
I have never actually used them as I am going to wait until this packet runs out before I order some more so check reviews first if you want to use them as I don't know what their service is like.
The wipes are between £3-£3.49 depending on where you buy them and 1 wipe goes a long way. For some reason the wipes also smell of the lovely Korres Magnolia Cleanser?? How lovely but bizarre! So your kitchen has a gorgeous scent as well as being sparkly clean, especially handy when cleaning the bin (yeah that is so not my favourite job). Anyway enough gushing, you would think this was from YSL or something!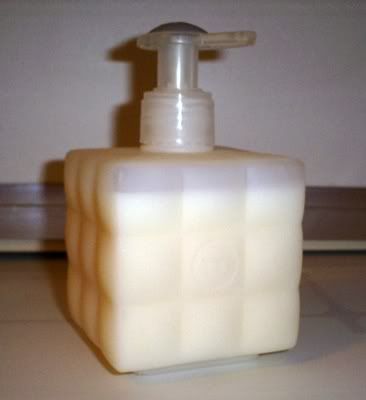 Method Olive Leaf Moisturising Hand Wash

On to the handwash and one of the things I like about this is that you don't get that nasty tight feeling you get with a lot of other handwashes once you rinse them off, my BF tested this out as he is a roofer so I thought I should use him as a guinea pig. It got all of the dirt off his hands fine (as does the normal Simple antibacterial handwash that we use) but he said he liked the smell of this one better and it wasn't as drying, he said he liked the (in his own words) "waffley bottle" I can kind of see what he means....it does look nice though compared to my Simple one which is just in a blue plastic bottle with a sticker on the front.
Method's packaging is really good and the nozzle is quite big so it's easy to pump, for men and kids this is actually quite an important issue, and the nozzle turns to the side to lock it and prevent spilling.
The only issue I have with this is that it isn't antibacterial, this is the information on their website
"this is the latest addition to our family of hand care. super moisturising. and cleans well. that's what soap should do. not kill. if microbes die, what do you think happens to your skin cells when you use 'anti-bacterial' soaps"
But then again this will appeal to people with sensitivities to antibacterial ingredients.
I don't know...I kind of like to think of the microbes dying! How does everyone else feel about this? Antibacterial - good or bad...?
You can buy the handwash at the same website as the wipes or at Boots and supermarkets for around £3.49
So I am just sitting here waiting for my hair dye to develop then off to the shops to pick up the giveaway prizes...how exciting! I will take all of your ideas into consideration however I don't think there are going to be enough funds for Mac this time, sorry but it's nearly Christmas and I have a lot of people to buy for.
Have a lovely Sunday xx
Please Digg My Post
Thank you!
Sarah xxx