I was sent the following Cargo products as a gift (versus products specifically to review) but I wanted to review them as they are so awesome! I really really think they are such good quality and I wanted to share them with you as you can actually get these products in a lot of different countries and they are not too expensive. In the UK the entire collection (which includes an amazing amount of products for the price not just the three below) is available on QVC for
£44.50
and they obviously sell it in the USA and Canada, you can check out their website here
cargo blu ray
Pls note there is a concealer above, and I plan to review that separately

The info Cargo provide "Developed for film and television, this Blu-Ray Skin Perfection Collection from Cargo offers you picture-perfect make-up results every time. This make-up will give you a natural look that will last the day and in all types of lighting".

I can honestly say that the face powder is 100% better than the Smashbox Halo which is supposed to make your skin look like a glowing halo and instead makes my face look liney and dry to start with and greasy after about 4 hours. The cargo pressed powder actually does everything that I would expect the Smashbox powder to do.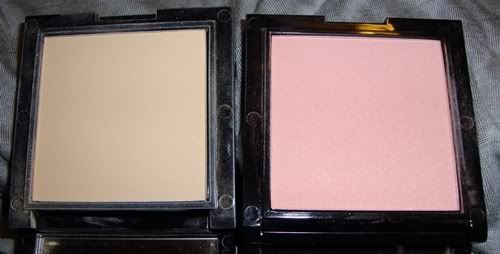 Left: Cargo Blu Ray Pressed Powder No.2 and Right Blush/Highlight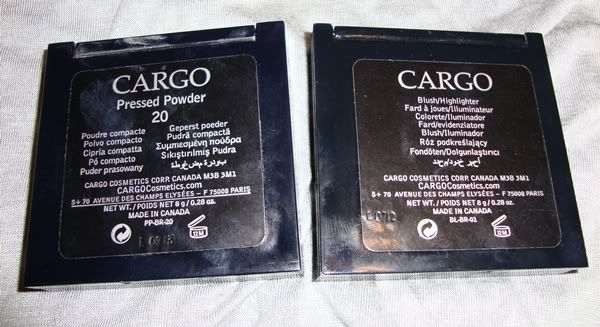 Pressed Powder in No.2 - I would say for a NC20 this would be a good match

No.1 would be better if you are a NW15

Packaging - this is pretty much the same packaging as the Korres blush and bronzer packaging but about 1cm smaller and with black plastic. The compacts are very sturdy and the clasp fastens securely on both. The mirror is sizeable and good quality. The only problem I think might be if you have long nails and try and open the clasp too hard you might open it and nick the powder, so remember to be careful when opening if you pick this up.

Price - I don't think you can pick this up on it's own in the UK but you can pick it up in the set mentioned above and you can get it separately in other countries.

Staying Power - this lasts me the entire day and as it claims it does look good in natural light, in photos, all different types of light. It doesn't make me look shiny or greasy and it doesn't wear off it is still there when I remove my makeup in the evening. I use a soft brush to apply otherwise it is too pigmented on my skin.

Coverage - this gives me a moderate cover with a flawless pore minimised finish, honestly! It is very pigmented so you just need to sweep a large fluffy powder brush over the compact, tap off the excess and apply a quick dusting to the face, no need to buff in or apply a lot. The finish it gives is what I was expecting from Smashbox Halo that didn't deliver but this Cargo powder seriously does deliver and it is so silky and soft, if you stroke your face after applying (am I the only one that does this?) you will be surprised on how soft it is and not cakey or cloggy at all.

You don't look like you have powder on but you do not look shiny or greasy all day, but then I don't have oily skin so keep that in mind. I do go shiny after a few hours of wearing Smashbox Halo though. This makes your skin almost look like it is in soft focus somehow. I am loving this! Another thing that is fabulous about this powder is that it doesn't sit in fine lines at all, I have no deepset wrinkles so cannot comment on that but I definitely have fine lines which some powders accentuate and this does not do that at all, it really hides them

Overall This product currently surpassed all HD/Blu Ray/Setting powders that I have used so far and I absolutely love it. To clarity I prefer this to the Clinique pressed powder, Elf HD powder, Smashbox Halo, Elf mineral powder and Stila pressed powder. So I haven't tried hundreds of brands so also keep that in mind. I hate Mac counters in general so I never try their powders as I ALWAYS get colour matched with the wrong colour, always, if any of you are or know of a Mac artist who works at a counter in London then pls hook me up!

On a minus I think it a bit weird they called it Blu Ray rather than HD like all the other brands? I don't even know what the difference between HD and Blu Ray actually is...do you?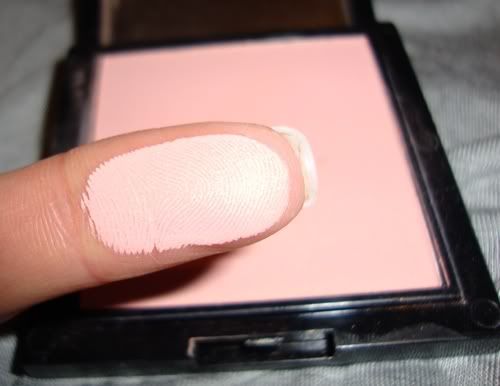 Cargo Blu Ray Blush/Highlight

Packaging is the same as the pressed powder for this blush.

Staying power - very good staying power, not quite as good as the pressed powder but I would say it lasts a good 8 hours on me which is usually good enough for most people.

Colour - thanks to my new camera I think you can get quite an accurate swatch above, it is a pale pink, brighter than Mac's 'the perfect cheek' and not as cool toned, not as bright as the Sleek Cosmetics blushes and not quite as bright as Korres' pink blushes. It has an extremely subtle white-gold sheen to it when applies but it is not in any way shiny, glittery or anything like that. I think that it is why it is called a blush/highlight as it draws the light to your cheeks and enhances them but not in an obvious way.

Overall - this was rated as 4.4 out of 5 on Makeupalley! This seems to have the same finely milled consistency as the powder as the feel the same on your skin, very smooth and silky. I think I might even go out on a limb and say that I prefer this to Nars blushes as I just cannot blend them in to look as natural as I have been able to with this one.

This is my FOTD using both the blush and pressed powder, nothing fancy, we just went to Gourmet Burger Kitchen. In other news I am pretty sure I saw Nickel from this youtube channel
whatstyleistonickel
today at a Mac counter... it was so weird seeing someone in the flesh from youtube, like seeing someone off the telly haha!
I will do a separate review on the concealer since it comes in the exact same packaging as the new Max Factor concealer I want to compare them.

So what did everyone else get up to today? I am planning on going to the hairdressers some time this week if I can get an appt, I need my hair a bit lighter so I shall see if they are able to strip the colour from the ends or not.