Can you believe I have never tried
Models Own
nail varnishes before? I saw the pics on
Imogen's Blog
and thought 'you know if you buy those polishes..you will be truly happy' and you know what I really am!
There is also a 10% discount code as well which is MODELS10410 plus a free nail file if you spend over £10 so it's well worth a look, each polish is £5 but they have lots of special offers.
Here are closer pics
From Left to Right - Grey Day, Gold Digger, Pink Punch, Foxy Fuschia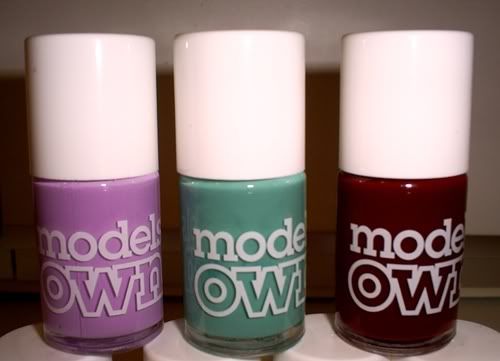 Lilac Dream, Slate Green, Red Red Wine

I am having my acrylics redone tomorrow and then I will post one big post with all of them on my nails once I have worked my way through them, that way it will be easier for anyone looking for a swatch to have them all together. I must say Lilac Dream is so gorgeous and Red Red Wine is apparently the nail varnish that Cheryl Cole wears!
Let me know if you have tried Models Own Nail Polish and if so if you have any recommendations for me. I am going to try Gold Digger first as it is so festive!
I am so excited about tomorrow night as the BF and I are going to see Bill Bailey at the 02
Is anyone else into Bill Bailey? He cracks me up and with all that has been going on this year I could do with a good laugh!
What is everyone else up to this weekend?
Please Digg My Post
Thank you!
Sarah xxx