I just wanted to do a quick rave about a new product that I got, the website that I bought it from (as they have very good customer service) and a FOTD with the palette that I bought.
Firstly the website that I ordered from is called
Puresha
, I just stumbled upon this website I wasn't looking particularly for this brand or anything. Puresha stock natural products that are organic or eco. The makeup brand that they sell on their site is by Cargo but it is a line of Cargo called Plant Love.
Cargo Plant Love products are an eco responsible brand with no parabens, they do not test on animals, the packaging is made of plants (!!) It is the only prestige brand to carry the globally recognised eco cert. The natural and organic ingredients and award winning compostable packaging let you be 'green' and glam. There are no synethtic dyes, colours or fragrances in the products.
Now this all sounds good but what if the products are fugly and useless?
Well luckily they are neither! I picked up the palette called the Green Goddess.
This is the outside of the palette, not very glam but hey it is made of plants!

The palette is really good value, it was £22 and you get 4 full size eyeshadows and 2 full size blushes all in a slim palette like Stila's used to be which fits in a handbag or even a clutch bag as it is so thin. I like that the packaging is biodegradeable.
Here are the swatches of the eyeshadows, they are this pigmented with just one swipe of a Mac 239 brush.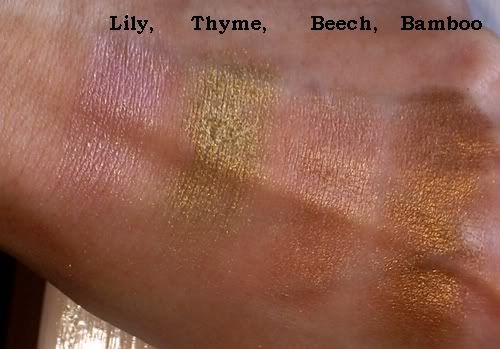 The eyeshadows are:
Bamboo: Bronzey chocolate brown with a gold sheen
Thyme: Palish green with a gold toned shimmer
Beech: Gorgeous champagne brown, shimmery
Lily: Pink with tiny gold glitter fleck
The blushes are: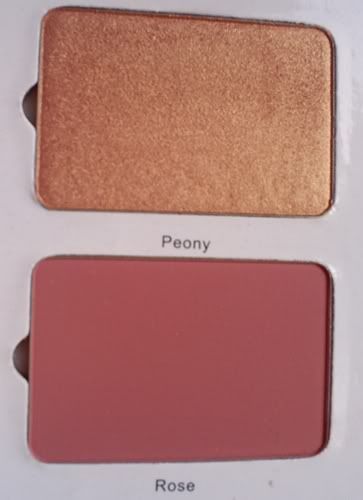 Peony - more gold shimmery version of nars orgasm
Rose - just like the name says a matte rose pink
The only thing I am slightly dissapoined with is the blush in peony, it seems a similar texture as the lily and thyme eyeshadows, which work fine as eyeshadows especially with an eyeshadow base, but it wasn't as smooth to apply as the blush in rose so I would give the palette 8/10 because of that.
Everything is so well pigmented and soft and really applies well, it's surprising that it's all natural really for such good quality, I was very pleasantly surprised.
Has anyone else heard of this brand? I wonder why I haven't seen much of it anywhere?
And I will do a FOTD or a video tomorrow but unfortunately the GODDAMN OLAY MOTHER****** has given me a rash over my entire face. Nice. This is the day cream not the serum. And bear in mind I am allergic to everything so it probably isn't that bad. So erm this is pizza face signing out lol!