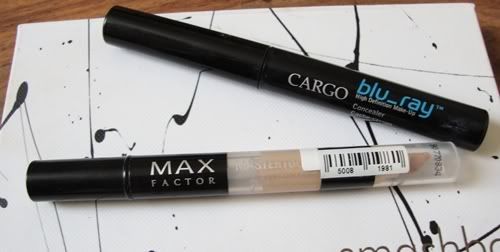 In December I was sent some Cargo Blu Ray products and while I reviewed the Blush/Highlighter and HD powder here but I have not yet reviewed the concealer.
As you may have seen from my recent foundation for pale people youtube video – I have three favourite concealers and they are all the thick creamy kind that come in a pot. So I put off using the Cargo Blu Ray concealer as it comes in a wand form so I assumed that it wouldn't give much coverage.
All of the Cargo Blu Ray products can be viewed here cargobluray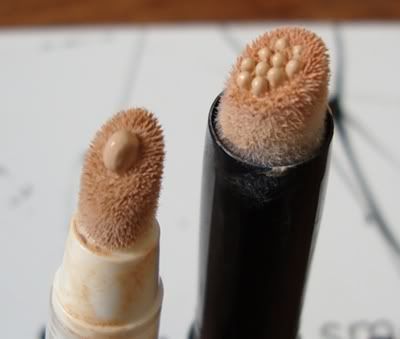 Max Factor Mastertouch Concealer – left
Cargo Blu Ray Concealer – right
In the UK you can get these from qvcuk and in the USA and Canada they are available at Sephora and Ulta I believe.
I also wanted to pitt this against a drugstore and similar looking concealer which is Max Factor's new Mastertouch concealer. Now since most people aren't exactly going to be filmed in HD I would presume that the standards of whether or not these are good concealers is based as usual on whether they conceal imperfections and dark circles, whether they settle into fine lines and how long they last throughout the day.
I will start with the Max Factor Mastertouch Concealer which you can purchase here maxfactor
Price around £6.99
Shades – 3 (obviously I have the lightest one)!
Packaging is a click up tube similar to a lot of lip products that also use this type of system. There is also a clear portion so you can see how much is left, very handy.
Colour Match – pretty accurate when I am wearing light fake tan
Consistency Fairly thick for a liquid but obviously not as thick as a product that is in a compact. For reference it is thicker than YSL touch eclat
Smell – no smell
Did it cover circles – some still visible but ok coverage
Did it sink into lines – yes and made undereye area look a bit dry.
Overall opinion – this has the thicker consistency of the two and the texture meant that it settled into my few fine lines and actually managed to make them look worse and more dry and as it was long lasting it didn't even wear off so they stayed looking dry and liney all day! This didn't really work for blemishes only under the eye. I think this would be a good concealer for someone who doesn't have any fine lines and whose skin is fairly oily as it is drying. I think it's a ok product for the price but it's not something I would repurchase.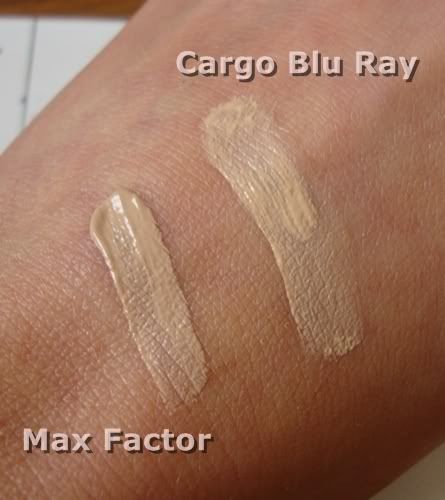 Cargo Blu Ray Concealer
Price – You can get for around £15 on Ebay or buy in a set from QVC UK
Packaging – black pen applicator. Looks nice but you don't know how much product is left
Colour Match – perfect (lightest shade)
Consistency – Thinner than the Max Factor and smoother to apply. The texture means it doesn't sink into fine lines or exaggerate them which is a massive bonus.
Smell – no smell
Did it cover circles – yes pretty well
Did it sink into lines – no very impressive
Overall opinion I was quite surprised that this concealer worked so well, didn't settle into fine lines and blended well. For such a thin consistency it has a lot of pigmentation and is a handbag staple. If you have combination to dry skin I think this would work better for you. I also like that this doesn't contain any parabens or sulfates. The only problem I have with this product is that the packaging has no way of showing you how much product you have used, or have left but that's the only downside I can find, it's even waterproof!
I prefer the Cargo Blu Ray Concealer personally although I don't think it will overtake my use of Benefit and Bobbi Brown concealers, I can see myself using this a lot more in the spring and summer as thick concealers tend to melt off my face when its warm especially on the tube!
What do you think of concealers –
is a pot better than a pen? Let me know!