I won't (can't as the people I would mention could easily read this) go into the reasons why but I have lately been in serious need of cheering up so I was ecstatic to find out we were being paid a bonus at work. I hadn't expected it due to the recession etc. but luck shone down on me for once!
Some people turn to booze and food when they are down, I turn to handbags.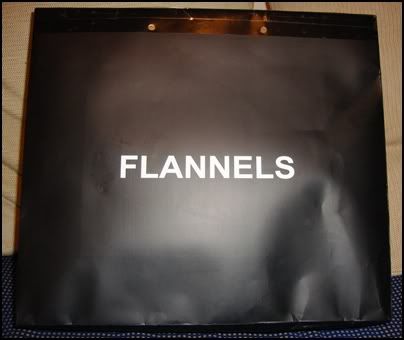 I have been eyeing this bag for over a year but have been reluctant to fork out the £££ for it. But thanks to
Holly
I got this lovely bag from Flannels for much cheaper than it retails for at the Miu Miu stores in London.
How it arrived, with a lovely note from Katie at Flannels and in a pretty pink linen dustbag.
For everyday I am keen on large bags that I can chuck all my things into and I like ones that are slouchy and have the option to be worn with a strap or with handles.
Miu Miu Vitello Lux handbag in Nero (black)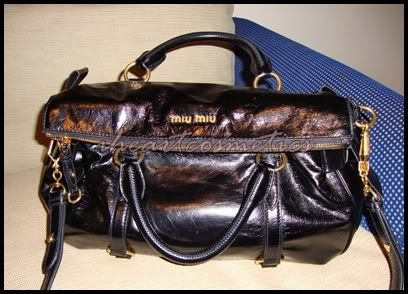 This ticks all the boxes plus it has gorgeous soft leather and comes in black (a must for those travelling on the filthy tube like poor old commuter me) and is shiny so won't get ruined in the rain. It's not patent but appears to have some sort of coating.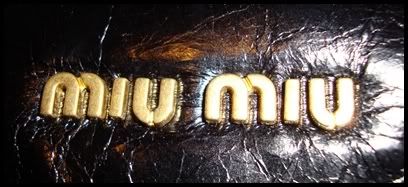 The bag even smells divine! It is so soft and roomy inside and is certainly big enough for my make-up bag, sunglasses case, 2 phones, ipod, large wallet, card wallet, misc vitamins and random tissues and work passes. To help alleviate this guilty pleasure I might try and go through my stash and do another blog sale, if anyone is interested - I feel I should try and justify it a bit!
I love the bows and gold hardware, they make a standard black bag super cute.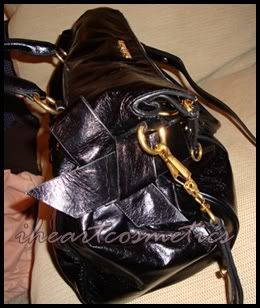 I am sure Vanessa Hudgens looks far more glam than me when wearing it but oh well, what can I do lol!