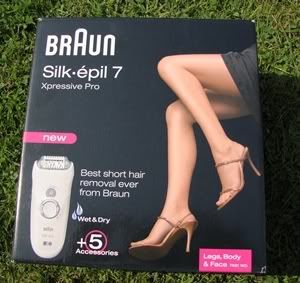 The second stage of the Gillette Venus and Braun Silk-Epil Get Set For Summer challenge involves an epilator and the one they have sent me is Braun Silk-Epil 7 Pro.
I have never used an epilator in my life so I asked my mum what she thought of it as she always uses one. The Silk-Epil 7 pro is their top of the range wet and dry unit so it's nice that I am starting off my epilating journey with a posh product! However this currently has 1/3 off the price in boots where it has been reduced to £86.00. This is still a lot of money for a hair removal product and if I was personally paying that much money I would really want to know if it worked properly so I hope this review is helpful.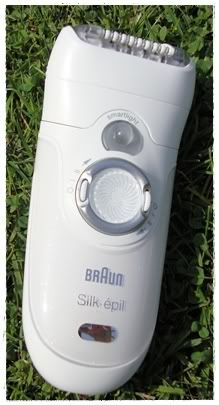 It can be used on legs, body and your face. It feels like a quality product and looks expensive, a lot of the cheaper units from Braun and other brands have funky colours which I think personally look a bit cheap, whereas this looks more like some sort of salon equipment and is plain white with silver buttons, it also has a clear area around the sides which is filled with white glitter, I know it doesn't affect how the product works but its so sparkly!
I tested the epilator out on my underarms and on my legs before my mum decided that she should really have a go as well ;)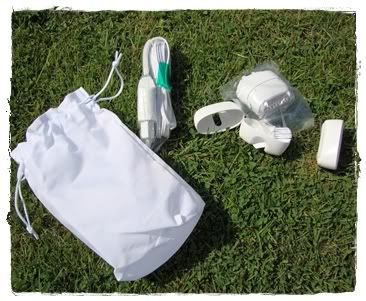 The attachments
What they say "Braun's best selling epilator range in the UK last year just got better! The new Braun Silk-épil Xpressive Pro Wet & Dry comes with new Close Grip Technology which lifts, loosens and gently removes hairs as short as a grain of sand (0.5mm). The unique SoftLift Tips can remove even the shortest and flattest of hairs, whilst the 40 winglet tweezers remove more hair in a single stroke than any other epilator. Plus it can be used in water to provide Braun's gentlest ever epilation! The new-generation epilator gives you smooth, soft and seriously beautiful skin for up to four weeks--giving you confidence that you look and feel your best whenever, wherever you want to.The Braun Silk-épil Xpressive Pro Wet & Dry is also rechargeable and cordless with a one-way charge system, to keep it completely safe in water. It stays charged for up to 40 minutes which guarantees enough time for users to become fully fuzz-free.".
It all sounds great but my fears were that it would be painful, the word epilate just means pluck really doesn't it!
The pros
The range of different heads that you get in the box mean that there is always the right tool for the right area of hair.
There is also a light on the head which lights up the area in front of where you are plucking so it shows up every single hair so you don't miss any. My mum informs me that this isn't a standard thing and they don't normally have this on epilators so that's a bonus.
It can be used for 40 minutes straight, mum said that the first time you epilate it takes ages but the more you do it the less the hair seems to grow back (she would know silly moo plucked out nearly all her eyebrows and they never grew back properly).
You can use this on really short hairs that are the same length as a grain of sand which is good, who wants to grow their hair really long before you can de fuzz? Not me anyway.
The cons
This does hurt a bit, compared with shaving I am not going to lie, I wouldn't say this is exactly a lovely relaxing treatment! My mum had a go and said it hurt less than her old one, but for the price I would expect it to, her one did cost £50 though so it's not like she was using something from Poundland! She has been using epilators for years and she said that after the initial month or so using it, you only need to epilate once every week to fortnight, depending on your hair growth rate.
Overview
If you currently use epilators and are looking for a new one then this is the gold standard and has every bell and whistle you could want and you can even use it in the bath or shower.
If you are new to epilators this would be a good one to start with if you are the persevering kind, however if you are a big scaredy cat perhaps try one of the cheaper models Braun do first, just to see if epilating in general suits you.
My mum has already stolen this from me (along with a shedload of other stuff), she said she 'liked a bit of bling'..... mum what are you like?!! She is a very happy bunny and she said she wouldn't be able to afford something like this herself so I think this would be a good gift for someone who likes epilators especially due to the funky glitter which apparently appeals to all ages xx
They are using Rachel Stevens in the advertising campaign, but, to be honest I wouldn't see her as an incentive to buy anything (sorry if you love her).
What do you think of epilators?
I am well impressed with my mum she didn't even flinch when using it, I suppose after childbirth with a giant fat-head baby like me she is just as hard as nails!
The Small Print: all items I was sent for the get set for summer challenge were free of charge.