As requested here is my 'how to' guide on false lash application. I would happily wear these everyday if I could at work (I can't) I often wear corner lashes during the day on days off, and full lashes on a night out. I prefer human hair lashes and ones that look fluffy but you can get hundreds of different styles.
The ones I will be using for this tutorial are a new brand called Eldora from the eldorashop. I was sent a few pairs of the diamante lashes about a month ago but the ones featured today I purchased myself from the human hair range, they are great value for money both pairs below cost £3.90 each and the H111 are similar in style to my favourite Mac #35 lashes for less than half the price. As you can tell from the fact that I purchased my own I am more than happy with these lashes, I like them better than Ardell and they were previously my cheapy faves. They are all handmade and the shop is based in Manchester.
They are comparable to Mac in quality but you can actually remove them from the packaging easily unlike Mac where you have to be very very gentle as they seem to be superglued down!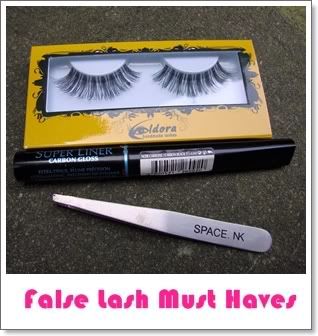 YOU WILL NEED
Lashes – I suggest corner or half lashes for beginners
Eyelash glue – I prefer Duo glue that comes in black or clear, if you always wear black eyeliner then go for the black one
Tweezers
Liquid or gel eyeliner (liquid in a felt pen form is much easier)
A defining mascara such as one with a spiky rubber wand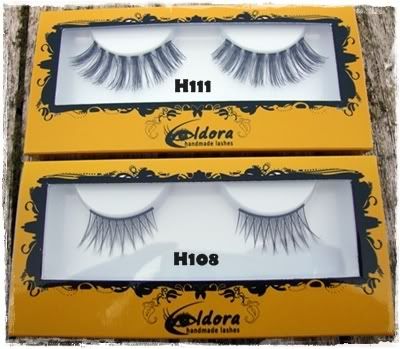 I used H108 for the tutorial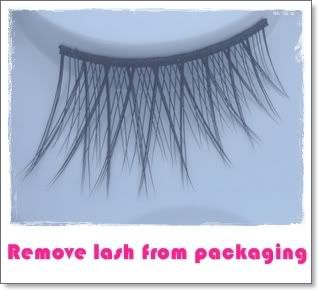 USE TWEEZERS TO GENTLY REMOVE THE LASHES FROM THE PACKAGING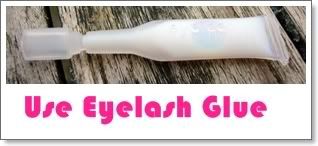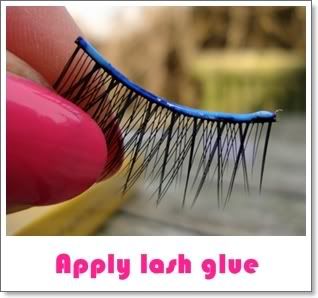 APPLY A THIN LAYER OF GLUE ALONG THE LASHES
IF YOU AREN'T USING CORNER LASHES PUT THEM ON YOUR EYE
AND THEN SEE HOW MUCH YOU NEED TO TRIM OFF.
USE SHARP NAIL SCISSORS SO YOU DON'T DRAG THE LASHES
I SOMETIMES USE THE SPONGE APPLICATORS BECAUSE I HAVE LOADS AND THEY
ARE SOFT ON YOUR EYE
YOU CAN USE TWEEZERS BUT SOMETIMES I DON'T INCASE I POKE MYSELF!
JUST HOLD THE ENDS DOWN FIRST FOR 20-30 SECONDS AND THEN MOVE ALONG
PRESSING IT DOWN AS YOU GO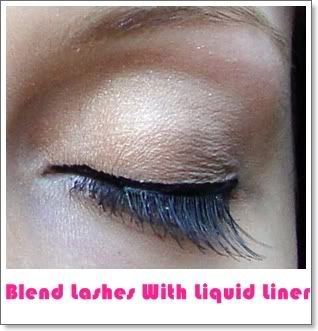 USE A LIQUID LINER TO BLEND THE LASH LINE TO MAKE IT LESS OBVIOUS
THEN APPLY A COAT OF MASCARA TO BLEND BOTH THE REAL AND FAKE LASHES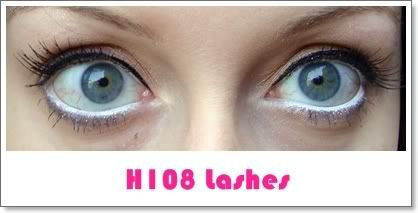 THE END RESULT
TROUBLESHOOTING
If you have one end sticking up, just apply a small blog of glue directly to your eye, wait for 60 seconds until it goes tacky and then push the lash back down holding it for another 30 seconds to make sure it sticks.
If you have tried the above and really can't do it then try applying the lash glue like an eyeliner to your eye, wait until it is clear/tacky and then try applying the lashes.
Cheap lashes are often harder to apply as the band is more stiff and the lashes more itchy but the Eldora lashes are cheap in money costs but they aren't cheap quality but basically it is better to buy a slightly better quality pair to make it easier to apply.
I would recommend Duo glue which can be purchased online from many stores rather than the glue you get free with lashes, Duo dark is my favourite.
Eldora is a great brand and I am more than happy to recommend them. I did receive 4 pairs of lashes free as mentioned above, but also purchased 4 pairs myself. I recommend the human hair but they also have over 200 different styles.
The small print – lashes featured were purchased myself however I had previously received some free lashes from Eldora.