In this week's haul I finally picked up Fix + after years of thinking it was a comple waste of time and that it was just a spray bottle of water.

I admit, I only bought it because I heard all the rave reviews on YouTube and blogs but I used it for the first time on Sunday and immediately I really think it's worth the money. I sprayed it on my face as a test after wearing my makeup for 12 hours and it really made my makeup look refreshed.
The mist from the bottle is very fine so I didn't feel the need to use a hairdryer to set it but I know that this is a tip a lot of girls swear by. Here is a before during and after so you can see the difference, it's subtle but I like it!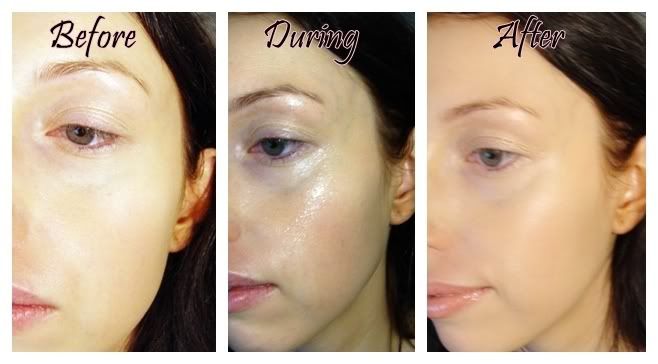 Click to enlarge
More exitingly however I tried using it as a mixing medium with three old Urban Decay eyeshadows and it works wonders (please excuse the messy technique it was very late at night for a twitpic).
All you do is swish your eyeshadow brush around in the shadow, and then spray the end of your brush with the powder on with the fix plus, it also means you don't have to mix water and shadows on the back of your hand or get any liquid directly on the shadow in the pan which always seems to ruin them in my experience.
Oh and apparently it's not just water, it's "An aqua-spritz of vitamin and minerals, infused with a calm-the-skin blend of Green Tea, Camomile, Cucumber, topped off with the fresh, natural, energising scent of Sugi." so now you know!
Pick up at Mac website or in store.
100ml / 3.4 US fl oz
£11.00