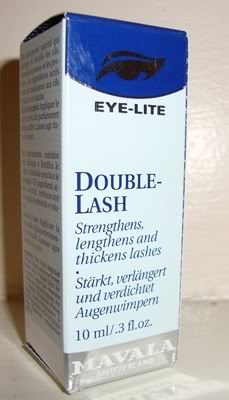 Right. So if you are me (and I am so who better to give you my perspective) then you would look at this product upon receiving it from the lovely PR and think....hmmm its by Mavala....it costs £9.25...and Lilash was amazing and cost nearly £100....this is sooo gonna be a load of crap.
You can get this product from
lookfantastic
one of my fave online beauty shops.
Talk about shocked (and feeling like a twit for buying Lilash)
this stuff is amazing
! I was especially doubting getting much length out of my lashes since I saw the lovely
Lipglossiping's post about this product
since she didn't get very much length difference (do u follow her? I think you want to..really don't you)?
From the Lilash vs Mavala montage you can see that there is probably only a millimetre in the length between Lilash and Mavala Double Lash. Please note I haven't used Lilash since around November last year and I used Revitalash after that which wasn't very successful compared to the Lilash.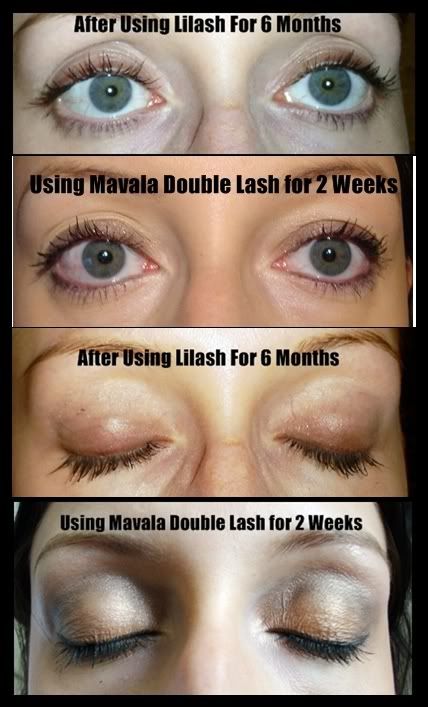 Mavala are the world leader in natural nail care treatments but they also have eyelash treatments as well which I wasn't aware of until I saw this product. In fact they have a few difference eye products like mascara and eye cream, you can see them here
mavala eye products
Here is the information
"Mavala Double-Lash was first produced 25 years ago, so well before your Latisse or Lilash type of product. This is a best seller for Mavala even today."
Basically the treatment is an overnight one that targets weak and short eyelashes by strengthening and protecting each individual hair resulting in fuller, longer and healthier lashes. The treatment is meant to make the overall lash condition better as well as adding length. This means it attacks the length problem in a totally different way to Lilash and Revitalash as it tries to strengthen and stop breakage of lashes you already have rather than stimulating the growth from the follicle.
The formulation combines protein and natural ingredients that speed up the growth of lashes. You apply this as a mascara to bare lashes before bedtime so it works while you sleep. A lot of these products are just applied like eyeliner so I like that you can just apply this like a mascara. Just so you know, I applied this morning AND evening, I'm a rebel like that don't you know.
It apparently takes 30 days to increase the length and strength of lashes. You can also use double lash on sparse and over plucked eyebrows. After 2 weeks I am having to untangle my eyelashes! This stuff is so impressive, I still can't work out quite how it works so well but it does.
I was amazed by this product and at around 1/10th the cost of Lilash I think it is well worth the cost.
Please note that your mileage may vary, that's why I included Charlotte's review link so you got a balanced view.