I thought I would share how I like to prepare for summer. So I will be doing a post on each of the different things I do, what products I use and how.
The first step to prepare my skin is ALWAYS to exfoliate, I still exfoliate during the winter but not as often.


Exfoliation is the perfect way to slough away at rough skin before you fake tan or to keep skin glowing if you are staying home this summer or going away on holiday, it can't work miracles but it can improve dryness and bumps which appear on the backs of arms, thighs and bum and knees and it should at least improve the crèpey skin and age spots that you can get if you are a bit older. Basically anything can look improved after weekly exfoliation. The aim is to leave your skin ultra-refined, rejuvenated and baby soft.
MY FAVOURITE EXFOLIATING SCRUBS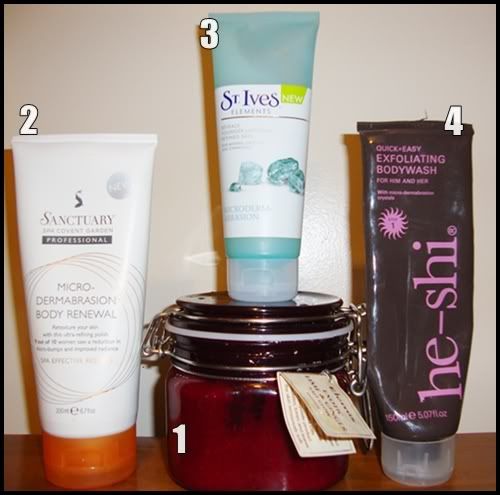 My criteria is that I want to feel like the scrub is actually doing something without feeling like I have been sandpapered.
1 - Elemis Lime and Ginger Salt Glow
First up is my all time fave, the Elemis Lime and Ginger Salt Glow which costs £35.00 for 410g.
It comes in a gorgeous red glass jar which looks very expensive and glam on your bathroom shelf. Your skin is so super duper smooth after using this but it doesn't feel abrasive or scratchy at all. It isn't as oily as The Sanctuary's salt scrub but it does contain Kukui oil, Japanese Camellia Oil and Jojoba oil so its very nourishing.
It has also got lime peel and ginger which stimulate the skin and smell amazing. To apply you just take a small handful and rub onto damp skin in circular motions. I love how my skin feels after using this, and I haven't found any lower end dupes that compare in terms of scent, packaging and the effects on my skin.
You can purchase the fantastic Elemis scrub here
elemis
or
lookfantastic
or at Debenhams and you will definitely not be dissapointed
2 - The Sanctuary Microdermabrasion Body Renewal Cream
Next up is The Sanctuary Microdermabrasion Body Renewal crème which uses micro-silicates from fossilised seashells to buff away all dry skin and get to work on cellulite so this is a perfect one for the backs of your thighs and your bum. It is a white paste which you apply before showering on dry skin, remember not to scrub too hard as this is pretty strong stuff! I have gone through 2 tubes of this already, the one pictured being my third. Its addictive! I love it for the backs of my arms as well, why does skin go so bumpy there?
You can order online at
http://www.thesanctuary.co.uk/microdermabrasion-body-renewal-details.htm
or from all larger Boots stores and it costs £8.99
3 - St Ives Microdermabrasion Facial Scrub
You can pick this up in Superdrug or Boots usually on special offer for a few pounds, mine cost £2.99 in Tesco.
The gel like scrub liquid and the smooth but sturdy beads remove the dry layers of skin without being scratchy and its suitable for you to use a couple of times a week rather than just once as it isn't too harsh so it's perfect when you are fake tanning. I would not say that this is the best facial scrub in the world but it's one of my faves due to the quality vs price, it really performs like a much more expensive product and I am very impressed by how soft and smooth my skin is after use.
4 - He-Shi Exfoliating Body Wash
Another favourite is the He-Shi exfoliating body wash, I have mentioned this before but I used up the entire tube in super quick time as it smells delicious. This yummy smelling strawberry scrub isn't like a body wash really, it contains AHA's as well as scrubby particles so it is both a chemical and manual exfoliator. The plus is that you don't also have to use a separate shower gel. Just massage it all over your skin on any dry areas and you can even use it on your face which saves buying a separate product. It was fine on my face which is pretty sensitive and didn't leave my skin dry at all.
He-shi is available from Harrods at Urban Retreat or it's slightly cheaper £8.95 at
feelunique
What are your favourite exfoliators?