I wonder if you can guess?
Amazingly studies reveal that people only spend on average 42 seconds brushing their teeth and one in three people only brush once a day, or less! That is so disgusting!
The recommended time frame is 2 minutes morning and night. But just as with sunscreen, people stick their head in the sand about looking after their teeth and then wonder, when they are 50, why they have bad teeth, fillings, crowns and bad gums.
I cannot stand the thought of having false teeth and I love mine clean, shiny, white and healthy so I make sure I look after them now so they will look good when I am older.
I always make sure to brush with my favourite Beverly Hills toothpaste (as recommended by Watchdog), floss and use a mouthwash but the most important part is using an electric toothbrush as manual brushes just cannot clean your teeth as well.
I used to use a generic model of the oral-b electric toothbrush which I was happy with as it seemed to do the job and was miles better than the manual brush I had used before. The
Oral-b Triumph 5000
was sent to me after I mentioned how cool I thought it looked and how much I love teeth and I have been using it twice a day, every day for just over a month now. In fact the lady who sent this to me (hi Rebecca) is one of the only people who seems to understand my
obsession
interest in tooth perfection.
I love it! I wanted to write this and post it now as it is currently a lot cheaper on Amazon [
link here
] so you can get it a lot cheaper than RRP.
The features of the Braun Oral-B Triumph 5000
Comes with a wireless digital SmartGuide to provide dentist inspired feedback during brushing, including monitoring the time and pressure - i.e. a red light shows if you are brushing too hard etc.
The only toothbrush to be approved by the British Dental Health Foundation
5 different brushing modes including daily clean, sensitive-perfect for those with sensitivities or bleeding gums, polish to remove stains, massage and deep clean
3D technology pulsates at 40,000, rotates at 8,800 per minute and oscillates to remove 2x as much plaque as a normal toothbrush
Easy to use
Only needs charging once or twice a week
Tells you when it needs the brush head replacing - I never know when to do this so it's a fantastic idea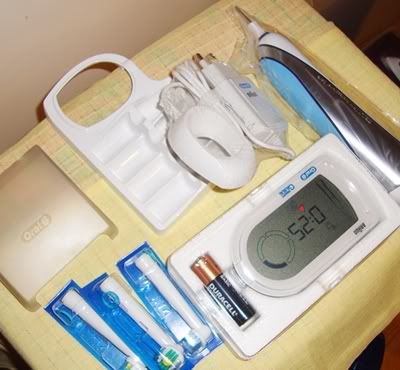 This is what you receive, inside the box there are 3 brush heads, normal, floss action and sensitive and a smartplug, the blue travel case is not pictures as it looks rather...phallic!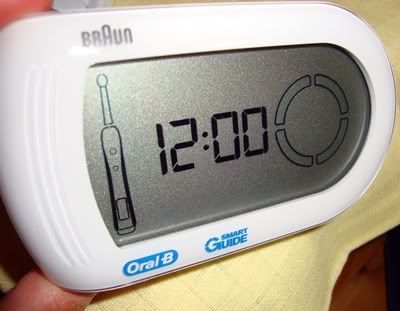 I think the wireless smartguide is wicked, obviously you could get a stopwatch and use that instead, but who can be bothered? This would also be a good way to encourage kids to brush their teeth as the smartguide has four segments of a circle pictured, each 30 seconds represents one 1/4 of your mouth and you have 30 seconds to clean each second thoroughly while the timer does its countdown. Once your time is up the segmented circle turns into a smiley face and if you brush for another 30 seconds or so the smiley face gives you a wink!
You might think this is a gimmick but who cares when it means you are brushing your teeth properly? It's no more gimmicky than giving kids flavoured glittery toothpaste as an incentive.
This brush can be used for all of the family as you just change the brush head, and this would be a great incentive for anyone to ensure they brush their teeth for long enough.
I have seen a difference in my teeth for definite. I had my teeth whitened in 2008 so the effects wear off after a while especially if you drink black coffee which I do every day (1 or 2). Here is a picture of the final day of my teeth whitening session in 2008 at the dentist, and below a picture taken yesterday after 35 days using the toothbrush.
Pic from 2008 the day my whitening sessions finished at the dentist.
My gums are bright red as they had just been cleaned to ensure there was no bleach on them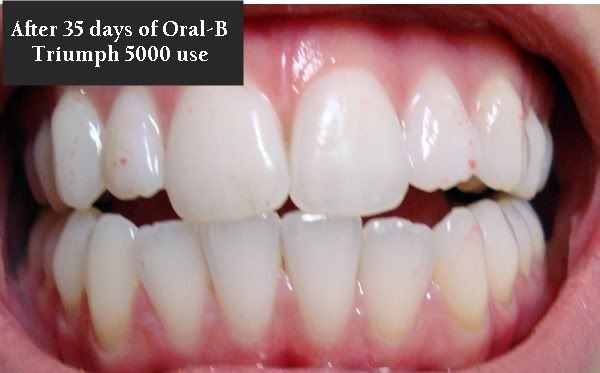 Pic taken yesterday i.e. July 2010.
Sorry bout the lippie, I didn't realise!
I feel that this toothbrush has further enhanced the whiteness of my teeth so I won't have to have them whitened again for a long while and I had started to think that they had been getting dingy again before using this. Of course, whitening doesn't last forever, new stains happen every day but I think this will really prolong the effects.
Overall I would recommend this toothbrush 100%
as it is amazing, but more importantly if you are still using a manual toothbrush I really do urge you to get an electric one if you can afford it, you can pick up a cheap Oral-b vitality in Superdrug some months for half price or this
one from Argos
is £18.99.
It will get off so much more plaque than you can manually do yourself so it is one of the best things you can do for your health.
Do you strive for white teeth? Have you found any amazing toothbrushes or toothpastes? Let me know!