On Thursday both Tesco and Boots had their Christmas press days. I absolutely love Christmas so much, I have been trying to convince Matt to come with me to Lapland every Christmas since we met (if anyone else wants to come I am more than willing) but he hasn't cracked yet!
So I went along camera in hand to see what goodies will be gracing the shelves of Tesco and Boots this year, eat Christmas cake (very odd in this heat) and have a nosey!
First I will post about Boots
Click to enlarge
There are plenty of gift sets from Soap and Glory, Joules, Ruby and Millie, The Sanctuary, Gok Wan, Toni and Guy, Boots Botanics, Celia Birtwell and a new range from Sex and The City
I spoke to Vanesa Guallar who is the makeup artist behind the Boots 17 Makeup range. She showed me the Starry Eyed Christmas Collection which includes these gorgeous glitter eyeliners, which I actually found to be nicer than Urban Decay's and some extremely well pigmented eyeshadow trios.
I was given the mascara and gold liner which I love and will review soon
These were really good quality, very creamy and pigmented
The Ruby & Millie Gold Brush set was very pretty
and it seemed like decent quality too, comes in a nice gold bag
Strictly come dancing have a new range of makeup
Palettes for different types of dance i.e. Latin
I spotted Lisa Armstrong (Ant McPartlin's wife) who is head of make-up on the show but she was chatting to someone else so I didn't get to say hello, it's probably lucky I didn't get to speak to her as I would have embarrassed myself!
Nail varnishes, pencils and glitters
There was even a train case, you can remove the makeup and
use the case for your own makeup!
Brilliant storage idea
Gok Wan has some new Christmas gift sets out.
Personally he reminds me of animal the peperami but that could just be me…
The gold shimmering body oil was very nice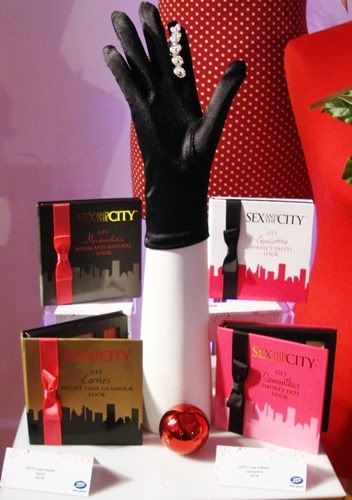 Samantha's palette
Boots have the exclusive on Sex and the City makeup
Not sure how well they will do after the film was panned!
Even Matt's toiletries are sorted!
Everyone was busy at the No.7 station so I didn't get to see anything up close
However there is a new highlighter and some new eyeliners
which look like an exact dupe for Mac's liners so
I will post pics if I can get some images
There was also a new range of makeup by Fearne Cotton which you can see pictured over at vexinthecity since personally (no offence to anyone) it wasn't something I was interested in.
Next I went to the Tesco event at the Westbury and oh my, this was the best decorated event I have ever been to, it was actually like Christmas!
The Christmas flamingo is definitely growing on me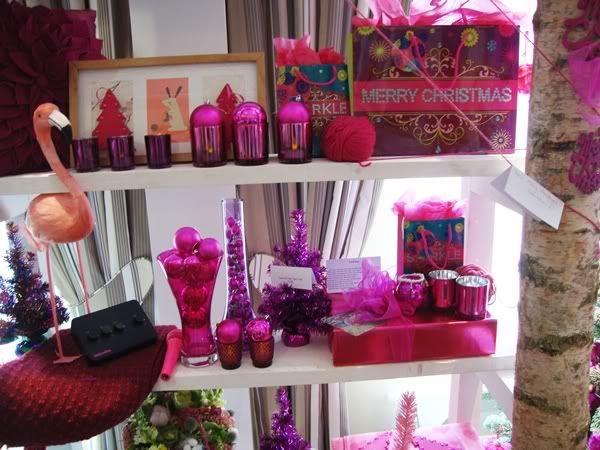 Shall we call him Barney?
But back to beauty! The treacle moon line was well represented and these are such bargains, for a few pounds you get so much product compared to the high end Philosophy products they are a dupe of, and he scents are gorgeous especially mint and ginger.
There are dupes for The Sanctuary, Soap and Glory, Molton Brown and Body Shop butters which I think is nice really, some people can't afford the genuine products can they? At least Tesco is making nice products accessible to all with most gifts costing around the £5-10 mark at most. For example if you have children who buy Xmas gifts for their teachers it can get really expensive, these are perfect!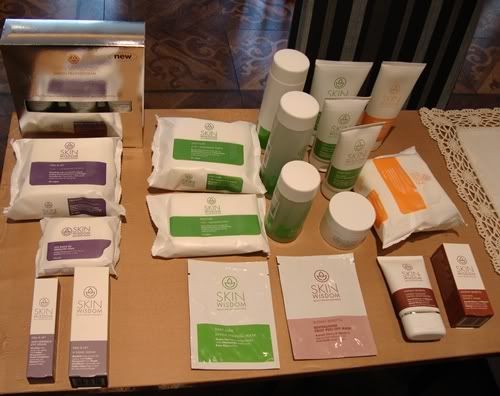 Lots of lovely Skin Wisdom products
I like the look of the Denise McAdam hair products too
So overall apart from having a wicked day I found that there are a lot of nice things coming up in the shops from September to December and I am most excited about the Skin Wisdom skincare from Tesco and the Boots 17 makeup range.
Will you be getting a Christmas flamingo?