I finally managed to make a trip to one of my favourite shops yesterday, which is whole foods
The better one in London is at Kensington High Street but I had to make do with the one near Piccadilly station as I rushed there on my lunch hour.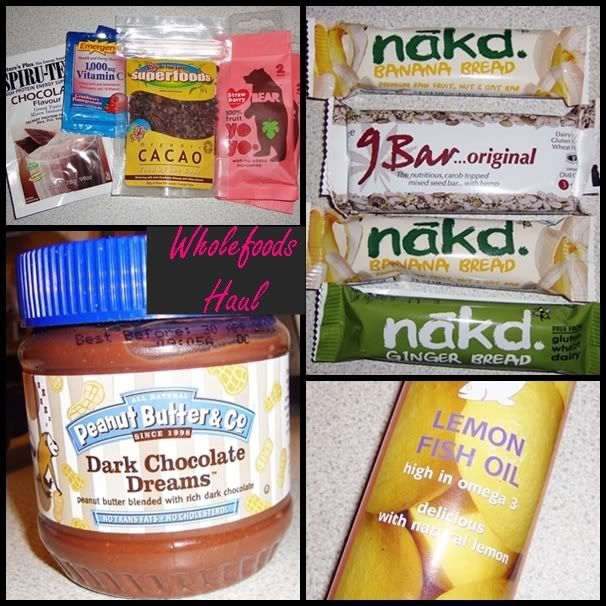 I wanted to stock up on a few favourites that are hard to get in Holland and Barrett as they never seem to sell the Nakd bars in banana bread or ginger bread? No idea why they are the best ones! I picked up another 9 bar but I have ordered their sample pack after seeing it on Keepingslimandgettingstylish as I love trying different things.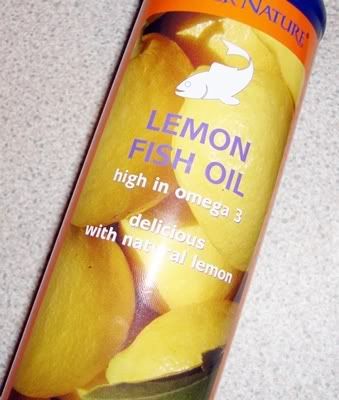 I wanted to get a new Omega 3 supplement so I have got the Higher Nature Lemon Fish Oil, it is still a bit gross but it tastes much better than the eye-q chews so that's something. I have to have an Omega 3 supplement as I tell the difference in my moods as soon as I stop so I am happy I have a new one now.
I have basically stopped eating chocolate bars but I couldn't resist the Dark Chocolate Dreams as it is a natural peanut butter with no trans fat or cholesterol's but blended with dark chocolate, even 1 teaspoon stirred into your porridge just makes it taste orgasmic…well if you like peanut butter obviously! I also wanted to see what the fuss about Cocoa Nibs was, I do like them but I don't think I will buy another packet as I don't love them.
Trying my new cocoa nibs! Mmm I love porridge
I tried out the chocolate dreams with some soy milk, melted it in the microwave and used it as a topping for my mini protein cakes which was a bloody good idea if I do say so myself.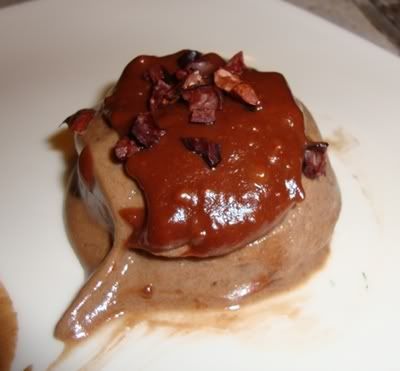 Protein cake recipe
(makes 5 mini cakes using a silicone muffin tray enough for 1 man 1 woman)
3 egg whites (I buy twochicks) its so hard to find though! I wish it was sold everywhere
1 small banana
2 scoops of chocolate protein powder (or any brand or flavour)
1/4 teaspoon baking powder
Sometimes a tiny splash of milk is needed, I use Soy Light
Whizz in a blender, pour into moulds and blast in microwave for 1-2 minutes, check it after 1 minute and see how the texture is, I like mine a bit squidgy and topped with a few cocoa nibs.
Of course I had to get a couple of beauty products.
First up is Dr Bronner liquid magic soap. I was intrigued as the packaging is covered in writing and I grabbed the unscented version as my skin is sensitive and I didn't know how strong the other versions would be.
You can use this in 18 ways apparently. So far I have used it on my face and body, as a shampoo and hand wash but I am sure there are plenty of other uses. I love multi use products and it was really inexpensive at £3.99 for a small size bottle.
This hemp soap only has a few ingredients and they are made with organic oils and are certified fair trade. You can find out more on the official Dr Bronner website. I was really surprised to find this lathers up really well, natural products don't usually do that so it was great and made it a lovely shampoo and body wash to use. It leaves your skin and hair so totally squeaky clean, remember to only use a tiny bit on your hair otherwise it will go a bit knotty.
I have had NO allergic reactions so far so that's brilliant for me, I am much more into using natural products these days I do worry more about chemicals as I get older. The Dr Bronner soap comes in lots of scents and the ones that caught my eye are Almond, Tea Tree and obviously the unscented one. Personally I would rather have something unscented as I know it won't irritate me, but the almond one was lovely and I might pick that up too next time.
The packaging is simple, the tube easy to use the writing on the side did turn out to be a bit odd as I thought it was the 18 ways to use the product but its actually more religious stuff…doesn't bother me (I am not religious) but I suppose it might bother some?
Considering the quality, the ingredients and the fact that these have so many uses the price is amazing. I will definitely repurchase. I like the mini sizes the best but they even come in huge 1 litre sizes if you want to get a huge one.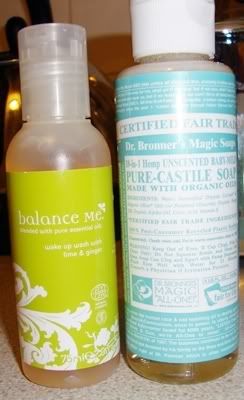 I also picked up the Balance Me wake up wash with lime and ginger. They have won a lot of natural beauty awards but to be honest I sniffed a lot of their products and wasn't that struck on most of them, but I do like the scent of the lime and ginger and I thought it would be very refreshing in the shower and I wasn't wrong. I just got a mini as a full size is £10 for 250ml which is pretty expensive if you don't know much about a product to shell out. I like to buy a mini to see if I want to buy a full size.
It contains lots of lovely ingredients and is certified organic. I will have to use it a few more times to see whether a full size would be worth £10. Its a shame really that you can get a regular shower gel for £1 and an organic one with nice natural oils costs £10 – its obviously going to put a lot of people off purchasing natural products.
Do you like healthy foods and finding cool multi use items? Has anyone read the Green Beauty Guide or the Green Beauty Bible? Would you recommend them?