You get a big fat spot! Talk about karma biting me on the ass.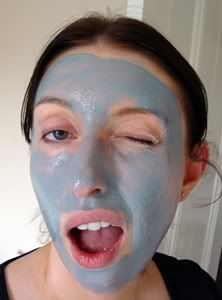 If you are a regular reader you will know my favourite exfoliator by far is the Sanctuary warming microbrasion scrub. I find the sanctuary products great quality and usually buy these items myself from Boots but I was sent three of the new items from the range to test out.
The facial products have been revamped as of the 5th July and now come in pretty new packaging and are still available from Boots nationwide or on-line at
thesanctuary
I left these products aside as I hadn't had any need for deep cleansing but lo and behold, the day after I put up a
video about my skincare onto youtube
, I awoke to 2 hard lumpy spots on my face so I grabbed these to test out how they work. Talk about sod's law though, I never ever get spots!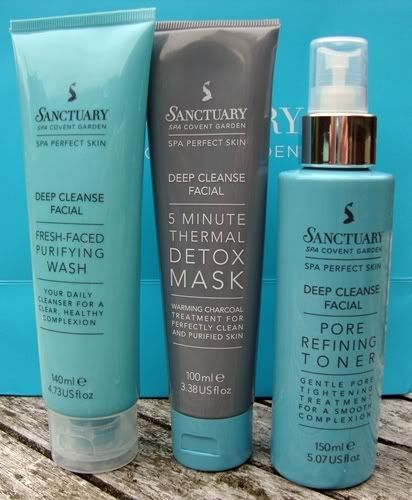 The Deep Cleanse Facial Kit includes a facewash, toner and 5 minute detox mask and is designed for you to be able to replicate one of the salon facials offered at The Sanctuary's London Spa.
Fresh faced purifying wash £6.99 for 150ml
Used in the morning to replace my usual Paraben free foaming wash I found that this product kept my face nice and clean without stripping it and making it feel dry and tight. It didn't foam as easily as my usual facewash as it was a lot thicker which was a bit annoying. I liked the packaging and find it helpful when squeeze tubes are made slightly wider like this one otherwise they tend to topple over when balanced on the side of the sink (my regular one is forever falling into the sink). This is a nice facewash and good for the price, I wouldn't say it was anything outstanding but it certainly didn't cause me any allergies, reactions or problems and left my skin soft and clean.
Pore refining toner £6.99 for 150ml
After using the facewash I have been spritzing this toner over my face before I apply my SPF or night cream. I like that the cool spray revitalises and refreshes and it has a slight scent of witch hazel which is contains, it also contains sea water which is always said to have lots of benefits for the skin. This is an astringent but isn't drying and I like to use it before my moisturiser to lock it in and keep my face hydrated. I do like a nice facial spritz and at 49p more than my La Roche Posay it's a great bargain as it includes many other skin beneficial properties rather than being just pure water.


5 minute thermal detox mask £9.99 for 150ml
This is my favourite from the range, I expected a clay mask to be like others I had tried which were thick and fairly squidgy and then dry hard and make your face 'set'. This isn't like that as it contains oil of myrrh so it moisturises and isn't extremely drying which is great for those, like me, with sensitive skin or just those who don't want to feel like their face is covered in setting concrete!
I like that the mask is self warming which means that it softens the gunk inside your pores, this lets the gunk be drawn out easier by the charcoal and kaolin clay in the mask. The mask is supposed to purify and re balance the oil in the skin so it doesn't leave you parched or over-oily.
After you apply it you leave it on for 5 minutes I rinsed then rinse off, in my case with the aid of a flannel. My is soft and smooth and while the lumps that I had were not magically gone I noted that whereas before they had been fairly deep under the skin they had moved quite a bit closer to the surface so I will be able to zap them with spot cream better. This might not sound good to some people but it means that the gunk had been drawn up and that the spot will erupt and therefore heal a lot quicker. I do not squeeze or poke at my spots as I personally don't want to infect the pore and make the spot even worse by digging and poking and irritating it.
This mask is definitely my must have item from the range and the one I would recommend as a purchase.
The New Skincare Spa range is Paraben free, suitable for pregnant women, dermalogically tested and naturally fragranced with essential oils and plant extracts.
Do you like using face masks or can you never find the time?