Bad Day – Good Shopping
I had a terrible day at work, its depressing how one idiot can ruin your entire day. Bad day always means shopping on the way home. Cue what I like to call 'station haul' since everything was bought at Victoria station. Hardly a shopping mecca but oh well.
Cotton pads, elegant touch false nails, veet spray as I am lazy and
like a nice chemical burn sometimes, and a Neil's Yard facewash.
I have become absolutely and completely obsessed with orange flower water recently after using my Yin Yang toner for over a month and so I wanted to get this facewash to see if it was any good. I love my Yes to Tomatoes facewash but it is going to be coming into the colder months now when my skin goes beserk so I wanted something for drier skin.
I have amassed a fair few things with orange blossom or orange water so I might post about them soon, so I hope someone else likes it too otherwise that's going to go down like a lead balloon! I really like the facewash packaging it looks quite expensive, so we shall see if it is a good facewash or not.
Then came my delivery of teapigs tea bags. Or tea temples as they like to call them. I was intrigued to try these out as I get a bit bored of my teas and like to change them up and posh tea sounded something I would enjoy.
Rather posh teabag
I ordered Rooibos Creme Caramel, Chai Tea and Popcorn Tea and I really like all of them. I think my favourite is the Chai Tea as I have never had it before and it tastes delicious and full of cinnamon and vanilla, lovely with some soy milk. A friend at work tried the popcorn tea and said it just tastes like green tea and smells of popcorn but I can tell the difference pah I must have superior tongue sensors or something ;P
The rooibos creme caramel is more of an after meal drink I think, you have to let the caramel melt properly for it to taste good but once it does mmm mm mm delish.
Now all of these are a bit pricey but once I have my spangly new teapot (i.e. when I get of my bum and go and buy one) then that will be more economical and the taste is a million times better than any tea I have drunk before.
Pet News
The changing seasons seem to have affected Benny and he has gone a bit insane, that's the only reason i can think he has taken to sniffing Matt's feet anyway, I sure as hell wouldn't get that near to them!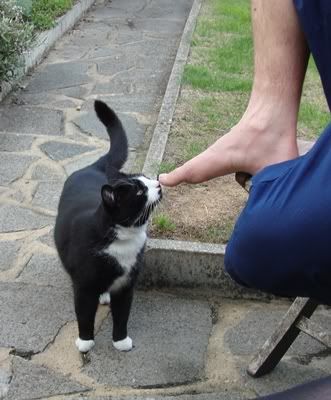 FOTD
Just an everyday work look using Nars Tzarine Eyeshadow Duo, I have to say I prefer Rhajasthan by far this is a bit too silvery and cool toned for me, still pretty though.
I have Inika lip whip in Cherry on my lips which was sent to my as one of my latest goodies from www.mypure.co.uk
The Inika lip whip is soft and smooth on the lips, isn't gritty or sticky and leaves a lovely sheer colour. I think it is such a gorgeous product and my favourite by far that Mypure have sent me. It smells exactly like Manuka honey! At £13.99 it is a bit expensive but it is gorgeous and a really natural lovely product as well. Lip whips are certified organic and also contain beeswax and shea butter to moisturise your mush.
What have you been up to today? Good day or bad day at work? Do you shop when you are pissed off? Is your cat a freak? I need the details ;P