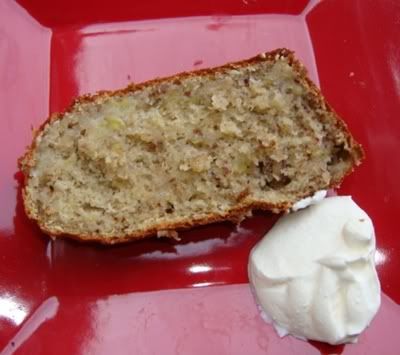 I made this banana loaf cake as for some reason I have an allergic reaction to raw bananas but cooked bananas are fine (yes, I know, what a freak).
Ingredients
3 Small bananas or 2 big ones - ripe or very ripe (mashed)
220g wholemeal self raising flour - or gluten free if you like
2 tablespoons of oil (veg or olive whatever you have really-i use olive as that's all I have in the house)!
1 150g tub of 0% fat greek yoghurt, or 2% if you prefer
1 teaspoon vanilla extract
100ml milk - I used Kara coconut milk
Utensils
Silicone Loaf Tin (this is a MUST as the mixture is very sticky)
How to Make
Easy peasy: Preheat the oven to 180 degrees c. Weigh out the dry ingredients and then the wet ingredients, add the wet to the dry much like a muffin mix and add a splash more milk if the mixture is too thick, it doesn't need to be perfectly mixed, just make sure there are no floury lumps.
Pour into the silicone mould and this MUST be silicone as this is a very sticky mixture as it is pretty fat free, bake for 20-30 minutes then take out of the oven and wrap in a bit of tin foil (the whole thing mould and all) and leave to sit for another half an hour.
Then slice and enjoy. Mmmmm tasty!