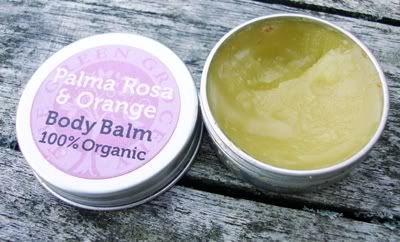 You'll have noticed I do like the odd Natural and Organic skincare product and it's especially nice to find a brand that is manufactured near where my grandad lives!
As the lovely Mrs Hirons very rightly pointed out on my post -
here
- the laws governing the labelling and distinctions of these sorts of products are quite vague but not the Green Grocery! No trickery to be found here.
The Green Grocery is a very honest, organic and natural company run by the lovely Skye, have a chat to her if you have any questions on twitter
@Thegreengrocery
Each product is 100% organic, certified and the packaging is even 100% recyclable
Skye sent me four mini sample-size pots of product to try and my absolute favourite has to be the
Palma Rosa and Orange Body Balm
. It is so luxurious and moisturising and doesn't irritate my skin at all. It's lovely (and easy) to apply on your arms and legs after a nice warm shower to leave your skin silky and smooth. Perfect for the upcoming cold weather.
There are also some solid fragrances that were recently released that you have to check out -
Love Letter
don't they look lovely?