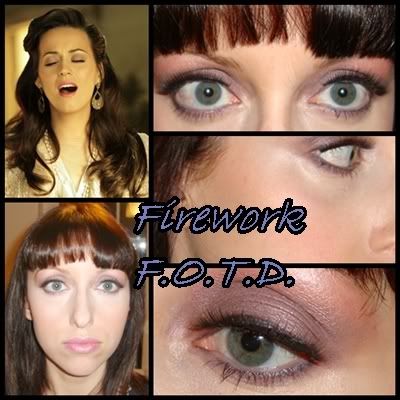 Yesterday night I went to a local firework display and I decided to try and recreate Katy Perry's Firework makeup from her most recent music video. I did my best! I think mine was slightly darker but I bought a few new eyeshadows and none seemed to match exactly but I got fairly close so that was the main thing.
The look features a lilac/grey matte eye with a pink peach highlighter, black liner and fake lashes, pink cheeks, gold highlighter on the cheekbone and pink lips.
I didn't think much of Mac's most recent collections, I find tartan hideous and I never see the point buying the mini brush sets – they aren't even made by hand like the fullsize brushes so what's the point?
Instead I picked up two shadows in Glamora Castle and A Wish Come True and I really like the colours and the quality. They are very easy to blend and smooth to apply with fingers as well as a brush, the pink is a nice highlight with this sort of lilac or grey look.
I also made my first Bare Escentual eyeshadow purchase, the shade is passionate plum and it's a matte plummy grey. The application and pigmentation are really good and it lasted all night long. I will most definitely be getting some more of these shadows, I love them! In fact I got a bit carried away swatching them all and ended up coming out of House of Fraser with both hands covered in sparkly swatches!
I paired the look with Essie's Smokin' Hot nail varnish which I really like. It does need three coats for a good coverage though which is a pain, I just want to do two coats!
I just wanted to remind you that if you want you can also follow my youtube channel here or the Iheartcosmetics facebook page here
I hope everyone had a nice firework night. Did you have fireworks in the garden or go out? Do they have a firework night in other countries?