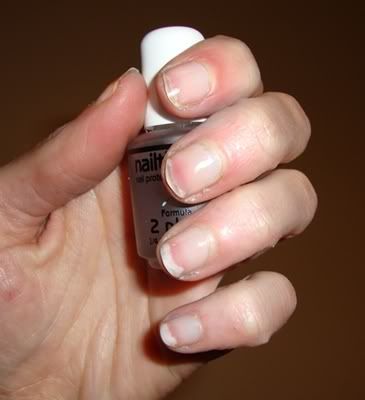 Nailtiques Treatment - Formula #2 Plus
After the whinging last time I figured I should try and be positive, and the picture above is my nails with only the Nailtiques Formula 2 Plus which I have been applying religiously. My nails are nowhere near perfect, but at least they are growing a bit and have stopped resembling rice crispies.
As it was such a busy week I have only today got the chance to use some of my George at Asda nail varnishes and since it's the weekend I thought I would just use random missmatching colours since I couldn't ever get away with that in the working week.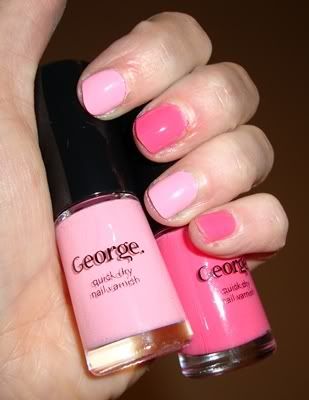 The pale pink is George quick dry nail varnish in number 33 - Sherbert Fizz and the Barbie pink colour is number 31 Groove.
Sherbert fizz applied well and was opaque with two coats. Groove was another matter! The consistency was a lot thinner and I needed three coats to acheive the finish above and it was rather streaky to apply. As you can see I got there in the end though!
These polishes are £1.00 from your local Asda or Asda Living. I know, a pound!
I mentioned before that I contacted Asda to try and find where they stocked these and I did say that I would send the list out, but I figured it would be a lot easier if I just posted it here so anyone and everyone can see. So many many thanks to Jasmin at Asda for advising which stores stock the George range of makeup and nail varnish.
BELFAST
CROWN POINT LEEDS
OLDHAM LIVING
THURROCK
DARTFORD LIVING
PATCHWAY
STRATFORD UPON AVON (LIVING)
TEESIDE (LIVING)
TRAFFORD PARK
LLANSTRISANT
CHESTER BROUGHTON
BRISTOL EASTGATE
ABBEY PARK
ACCRINGTON
AINTREE
ARDROSSAN
BALLYCLARE
BARROW
BEARSDEN
BODMIN
BOLDON
BOSTON
BRIGHTON HOLLINGBURY
BROADSTAIRS
BROMBOROUGH
BURNLEY
CAPEHILL
CARCROFT
CASTLEPOINT
CHATHAM
COLINDALE
COVENTRY
CUMBERNAULD
DERBY
DONNINGTON WOOD
DUDLEY
DUMBARTON
EASTBOURNE
EASTLANDS
EASTLEIGH
ELGIN
ELLESMERE PORT
FARNBOROUGH
FELTHAM
FLEETWOOD
FULWOOD
GALASHEILS
GATESHEAD
GLASGOW FORT
GLOUCESTER
GRANTHAM
HARLOW
HATFIELD
HAVANT
HIGH WYCOMBE
HORWICH
HOUNSLOW
HUDDERSFIELD
HUYTON
IRVINE
KENDAL
KILLINGBECK
KILMARNOCK
LINWOOD
LISCARD
LLANELLI
LUTON
MIDDLESBROUGH
MINWORTH
MORLEY
MOUNT PLEASANT - HULL
NEWPORT (LIVING)
NEWTON ABBOTS
NUNEATON
PARK ROYAL
PENTWYN
PERRY BARR
PLYMOUTH
PORTSMOUTH
PUDSEY
QUEENSFERRY
RAWTENSTALL
ROMFORD
RUNCORN
RUSHDEN
SEAHAM
SHAW
SOUTH SHIELDS
STAFFORD
STEVENAGE
STOCKTON PORTRACK LANE
STRABANE NEW STORE
SWANSEA
SWINDON HAYDON
TAMWORTH
WALSALL- ST Matthews
WASHINGTON
WATERLOOVILLE
WESTBROOK
WIGAN
WOLSTANTON