I am having a blog sale to free up some space and get rid of products that I just don't reach for.
I will of course sanitise everything used with either alcohol no not vodka haha (lipsticks) or dettol wipes for the outside plastic casing of things. Sanitation is key!
So there is no confusion
1) If you want an item, say so (and what you want) in the comments below along with your Paypal email address. I will then send you an invoice or if you would rather pay me via internet banking then that's great for me as I don't have to pay any crappy fees!
2) Paypal (or via internet banking for ppl in the UK) are the only methods of payment accepted - it's just easier and more secure;
3) Please ensure you pay for the item some time within 24 hours of receiving the invoice; otherwise the item will not be reserved for you
4) Shipping to Europe and the US is £2.50 and for the UK is £1.50, all items will be sent out the next working day after payment is recieved or on the same day if I am physically able.
6) No returns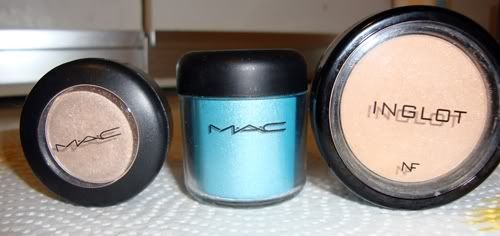 Mac Sugarshot Eyeshadow (no longer available in store) - Used Once - £8- PEND
Mac pigment in Mutiny Swatched once - £13.00 PEND
Inglot Eyeshadow Double Sparkle 463- Used Once - £6.50
Mac Fleshpot Lippie - Used Twice - its the one on the right hand side. £10 PEND
Can you believe that when I went through my stuff I actually had three of these all had been used yet I kept buying the same one, derrr what divvy!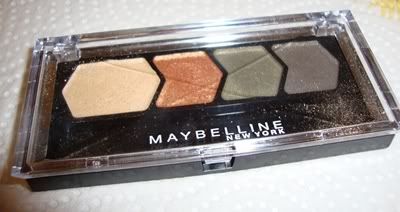 Maybelline Eye Studio in Bronze Drama - Swatched once £3.00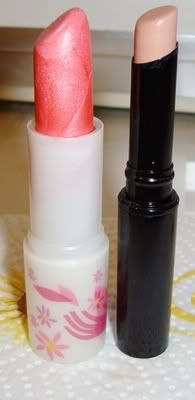 Cargo Plant Love Lipstick in Sarah - Used twice 99% left - £7
Inglot Slim Gel Lipstick in number 50 used twice - £7 PEND
Essie Mink Muffs - used once - £5
Pro Advanced Tripe Strength Nail Moisturiser - Unused - £3
Sugarpill Loose Eyeshadow in Lumi - swatched once - £6 PEND
Maybelline Mousse Shimmer in 01 Porcelain - swatched once - £2.50
Mac Hocus Focus Colourful Face Kit from Holiday 2009 PEND
Each colour used twice each £16
Mac half size lipliner in Dervish swatched once - £4 PEND
St Tropez Body Butter 100ml - £3.50
Loccitane Honey and Lemon Hand Cream £4.00
Both used twice
Unworn Pink bead necklace -£5
Unworn Black long beaded necklace - £5 PEND