Amie's new Spring Clean Cooling Clay Mask was given to me when I was on my manicure course. I have only used one Amie product before (which I thought was a bit average) but I do like that their products are natural as much as possible.
'natural, non-irritating ingredients are important in skincare for teenagers. At their age, skin is still sensitive and easily irritated while prone to breakouts.'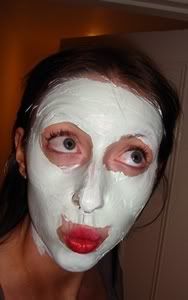 I used my usual face mask approach which is to cleanse and exfoliate beforehand so the mask can penetrate, then slap the mask on avoiding the eye area and lips (well you don't want to eat any of it).
The mask, as stated, is very cooling and very soothing - and as such I think it would be better suited to Summer use as I was a bit cold.
My skin felt soft and smooth after using but due to the clay content it did draw the bacteria from under the surface of my skin to the surface, resulting in a couple of blemishes. This is obviously the point of a clay mask but clearly you wouldn't want to do this within a week of a big event and end up covered in spots.
After the spots cleared my skin was left looking fresh and less grey and tired which I was impressed by. I would still recommend Queen Helen's Mint Julep mask if you need to draw out blackheads and spots but if you are looking for a deep cleanse this is a good buy and at only £4.95 at full price (not counting any special offers) to me this seems fair.
Available in Boots and Superdrug, more info available here www.amieskincare.com