You don't want to KNOW what the eczema looks like on
Someone mentioned to me yesterday about a friend of her's doing her wedding on a budget, and not being able to get her hair and makeup done by a professional for her big day. It got me to thinking that it would be a good FOTD to do, as it might give a few ideas to anyone having to do this for them self on their wedding day.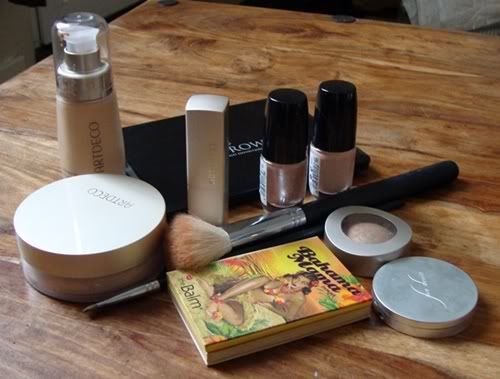 Personally I would prefer to get it done on my big day just so I didn't have to think about it but for some people that's not an option, and for other women who never ever wear make up I guess they might be a bit worried about applying make up for their wedding day as they aren't well practised. Then there's those that are travelling abroad and literally have to do the make-up themselves. So this is what I came up with as a neutral look perfect for those who don't often wear make-up but want to look polished.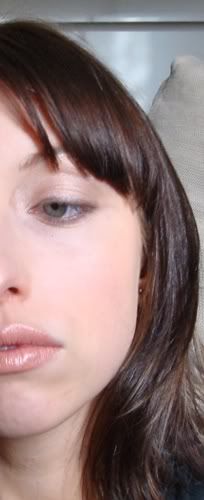 I used Korres primer - Quercetin and Oak, then I used a flat Mac 190 foundation brush to apply Art Deco's liquid mineral foundation which is absolutely fabulous. I love that it's mineral and the medium coverage is great as you can then use mineral powder foundation over the top to make sure that it stays on all day long through sweating and dancing and lots of cheek kissing!
After the Art Deco mineral liquid foundation I buffed onto the face the Art Deco mineral powder foundation with Elf's Studio Line flat topped powder brush for a velvet skin finish.
I then used Sue Devitt's gel-to-powder blush in Malay Reef on the apples of my cheeks with my fingers. Soo loving Sue Devitt at the moment, you can buy it on QVC here qvc Sue Devitt As the mineral powder foundation gives such a creamy and velvety finish you can use a cream product over the top with no problem at all, it doesn't go clumpy so you can take the blusher in you purse for a touch up later. I find cream blushes look so much more natural especially when you are doing a nude or fairly nude look.
I then used Bahama Mama bronzer by The Balm around the hairline and cheekbones and under the chin to create a shadow, this is a good idea to do if you have a double chin. If you are getting married somewhere hot then definitely use some bronzer, especially if you have been out there a few days and gone a bit red, as the brown will tone that down.
I used Urban Decay's primer potion to make sure the eyeshadow lasted and then used the Art Deco Mineral Baked Eyeshadow in 71 which is a pale whitish gold colour over the lid and up under the brow as a highlight. I then used a matte mid brown in the crease and Mac's stubborn brown kohl liner smudged along the top and bottom . Use your favourite black mascara (I just had to use the only one I had as I need a new one post eye infection)!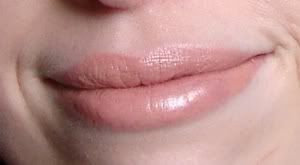 The gorgeous creamy nude peach lipstick is Art Deco mineral lipstick in #24 which is sooo gorgeous, smooth, creamy and fabulously pigmented. Love it!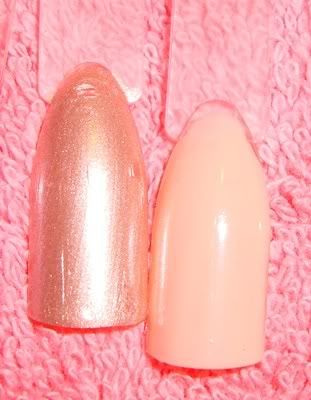 For wedding nails I think it's best to stick to a nude or a pale gold shimmer. French is a bit 'done' and I think a little much for a wedding, nudes and golds are stunning and classic. The two above are Art Deco Ceramic Nail Lacquers in 175 and 71. They dry really quickly and to a stunning ceramic shine finish. I am seriously in love with Art Deco!
If you don't know much about Art Deco make-up they are a German makeup brand and they are the brand used for Dancing On Ice the TV show and the make-up artists that do the make up for Coronation Street and I think also Hollyoaks. I would love to train with them as their products are absolutely stunning and I am normally a hater of mineral products! They contain no talc, fragrances or preservatives and are suitable for sensitive skin. I am a serious convert, the shadows are soooo pigmented. I am hoping to do a Katy Perry look with their shadows in the next week or so too as I have a perfect purple and green shadow.
You can buy Art Deco makeup from Garden and find out more info from http://www.artdeco.org.uk/
Art deco products pr samples, all other products bought by me.