For those of you that have watched The Only Way is Essex you will now Lauren Goodger and no doubt know that she has her own range of fake tan mousse, lotion and spray tan solution for sale. I am not sure if I mentioned before but despite being a rather embarrassing admission, I am obsessed with TOWIE! Love it, love it, love it.
For those of you that are wondering what on earth I am talking about you can check out clips from the only way is essex on youtube or view Lauren's website here www.laurengoodgerofficial.co.uk
I am a big fan of fake tan as you have probably gathered from the amount of fake tan reviews on this site. I am also qualified in spray tanning so know a bit about the idea behind fake tans.
How exactly does fake tan work?
Fake tan is based either on DHA (dihydroxyacetone) or a combination of DHA and erythrulose (such as fake bake). Both chemicals react with the amino acids in your skin to create a reaction which causes your skin to turn brown. Most of the time the tan will have a colour guide or bronzing make-up mixed with it, this is so that when you apply the fake tan you can see where it is going and make sure that you don't miss anywhere. Fake Bake's claims that it can last longer than other tans are because it contains the erythrulose which has been claimed to lengthen the time it takes for the tan to fade. This tan does not contain erythrulose.
The general theory is that the higher the % of DHA, the darker the tan will be – however using a very dark % DHA on a very pale person will not result in a dark tan, it is what gives the tango orange look. So just because you read that I, your best mate or your favourite celebrity loves a certain tan, it still could turn you orange if the DHA is too dark for your particular skintone.
The shade of Lauren's way tan is called 'Beach Bronze Dark' however it only contains 8% DHA. I think this was very sensible on their part as a mousse fake tan usually means you slap on more than with a spray tan so anything darker than an 8% could be likely to turn orange on a lot of people. I did find this tan quite dark and was asked repeatedly where I had been on holiday (despite the giant streak on my arm due to user error (hey I am out of practice, I normally spray tan)!
Is it easy to use?
I do like the product and it's ease of use. I used it with a mitt and applied in long sweeping strokes to cover the area such as arms and legs, and then used circular motions to buff it in to prevent any steaks (bar the one on my arm, the other arm is fine though). As long as you moisturise your hands and feet beforehand this has quite a foolproof application, I say to moisturise your whole hands and feet as this particular tan does have a tendency to grab at those areas more than others I have tried.
What are the ingredients? Does it smell funky?
I also like that the product is alcohol and paraben free, only has a very light fake tan smell in the morning when you wake up, it is definitely not a really pongy fake tan, and it contains no artificial preservatives.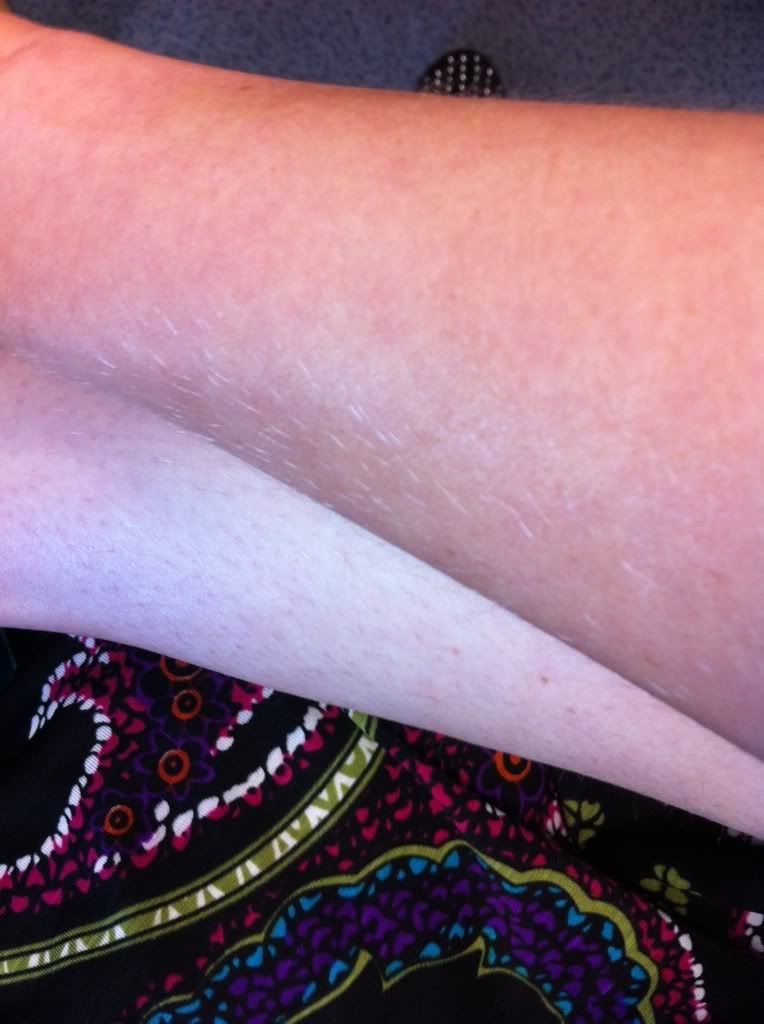 Does it take forever to dry? Do you have to stand around like a sticky orange?
As with most mousse tans this dries almost instantly and I just waited a few minutes before putting on my nightie before bed, there was no colour rub off on the sheets and it didn't make my skin feel gunky like there was lots of thick tan on it, it is quite light.


So is it pricey then?
I thought it was quite reasonable at £17.95 for the mousse.
Any other thoughts?
The information on the website suggests that you could put this on in the morning and then go out. I am not too sure I agree with that, the colour guide is pretty dark and looked a bit odd on my face, maybe if you apply it very sparingly it would be ok. They also say you can use this every day to get your desired colour. Aye carumba! If I used this more than once a week I would look like I had been bathing in ronseal!
Overall I give Lauren's Way tan a 9/10. I was pleasantly surprised with the colour and lack of smell. The closest comparison to this tan I think is the Fake Bake original version. Another WIN for TOWIE!
PR Sample