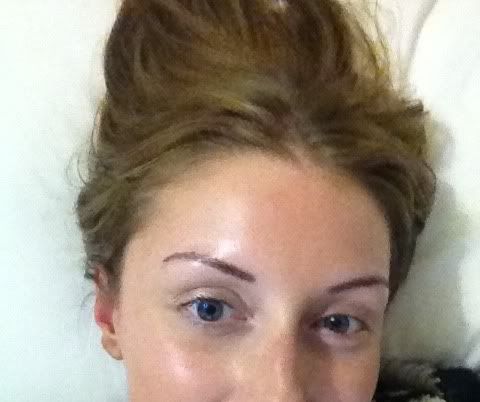 Call me a vain and shallow individual if you will, but I detest going anywhere or doing anything without
make-up
. I had a scary thought at the gym last week, in fact it was more of a realisation, I have been wearing
make up
now for 15 years! I love it though and the essence of this blog is just that I really really love make-up so hey, why feel bad about my addiction.
One thing that used to bug me every day was my eyebrows, they weren't sparse but they weren't very long and always had to be defined otherwise I looked like I had a half-brow! I had thought about having them tattooed before but you hear such horror stories that I was a little worried. On the other hand, you know me, I like a bit of a nip and tuck (and a pinch and tweak)! All it took was an offer from my lovely friend Lorena to have her do my eyebrows and I just decided to go for it. Honestly, it is one of the best things I have ever done and I LOVE them.
Lorena from Derma Eraze is trained in semi permanent make-up and many other treatments. She also previously very kindly wrote a guide for me on how to find the best semi permanent makeup artist.
Before and after
What is the procedure step by step?
On the day of your first tattooing you go for your appointment and have a full consultation as to what look and shape you want and what colour. Then your eyebrows are marked up, measured and plucked into the shape that is going to be tattooed (if you have any eyebrows) and you then agree that you are happy with them. You do not commence with any tattooing until you are happy with the shape and have approved it.
Lorena specialises in the hair stroke tattooing so the needle is used to finely draw on the brows hair by hair so they look as real as possible.
Only once you have approved the tattoo does it begin. Your eyebrows are numbed and there are regular breaks so you aren't in much discomfort. It is a tattoo so it a little painful as the skin is so thin on the brow bone but I would have it done again so it can't be that bad!
Having your brows tattooed is a multi treatment procedure so you do need to return to the salon again after the first time. Your first treatment with fade dramatically so you go back after a month for a touch up and this is the ideal time to see if you want to make any changes to your eyebrows as you have lived with them for a month and might want them thicker or longer. You must also remember to use your aftercare oil to help heal the tattoo.
The treatment takes around 2 hours in all and costs approximately

The price for a consultation is £50 which is payable by Paypal at the time of booking. The consultation price will go toward your procedure if you decide to go ahead.
The cost for the procedure is £390 and this includes a top up 4 weeks later.
Prices for top ups after this time are £175
My opinion
The day of the tattoo my eyebrows felt numb but a bit sore for the rest of the day. Over the course of two weeks you need to use your oil to moisturise the tattoo as they do get dry and flaky. After four weeks they have faded somewhat so you go back for your top up and then the procedure of the dry and flakiness happens again. After another 4 weeks your eyebrows look amazing! I am so pleased I had them done and it saves so much time doing them every morning, I just pluck around the shape now when the hair grows back and it's like a template. If you want Semi Permanent Make Up in Harley Street then this is definitely the place to go. So many people compliment me on my eyebrows which is super weird, I mean who notices an eyebrow? I have had a compliment from a stranger in a lift about them! I would definitely recommend getting this done especially if you have sparse eyebrows or have an illness which has caused hair loss.
*complimentary treatment