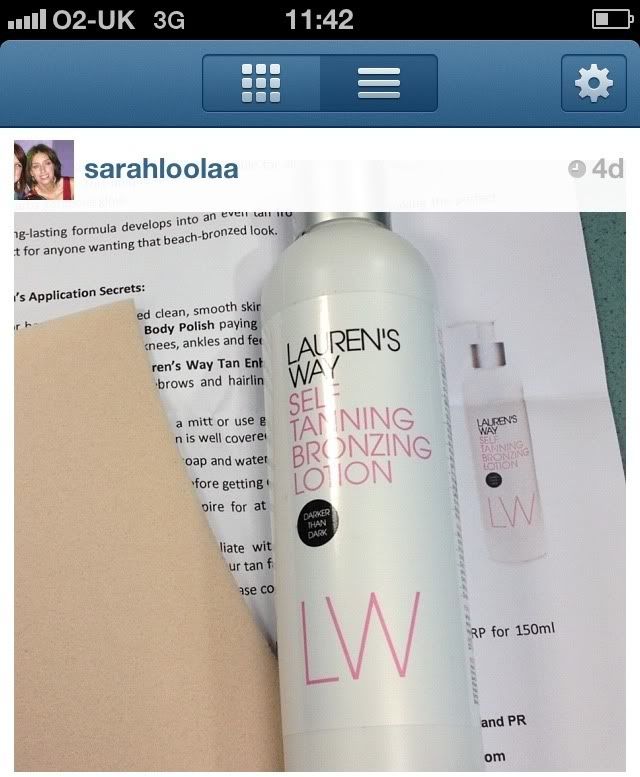 Lack of internet/camera is meaning I have to instagram my photos lol!
For those of you that have watched The Only Way is Essex you will now Lauren Goodger and no doubt know that she has her own range of fake tan mousse, lotion and spray tan solution for sale.
Despite being a rather embarrassing admission I do rather like a bit of TOWIE. For those of you that are wondering what on earth I am talking about you can check out clips from the only way is essex on youtube or view Lauren's website here

http://www.laurensway.com/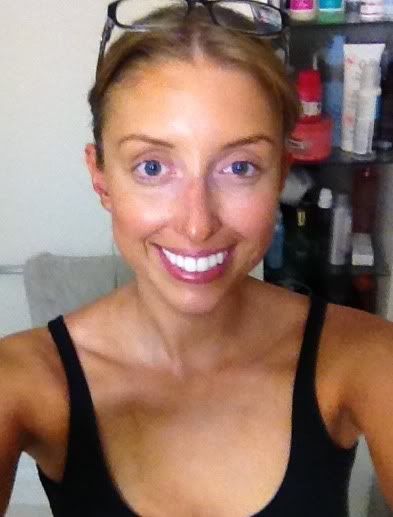 With the colour guide on!
Is it easy to use?
I do like the product and it's ease of use. I used it with a mitt and applied in long sweeping strokes to cover the area such as arms and legs, and then used circular motions to buff it in to prevent any streaks. I actually found this easier to blend than the mousse which I was very surprised about as mousses are usually the easiest for me to apply. If you are using a mitt though you 100% must wear a glove underneath as it DOES seem through the mitt and you'll end up with an orange hand without the glove.
Remember - I always say to moisturise your whole hands and feet as this particular tan does have a tendency to grab at those areas more than others I have tried.
What are the ingredients? Does it smell funky?
The product is alcohol and paraben free, only has a very light fake tan smell in the morning when you wake up, it is definitely not a really pongy fake tan, and it contains no artificial preservatives.
Does it take forever to dry? Do you have to stand around like a sticky orange?
The lotion was dry and I was ready to put on my pj's in 5 minutes, it really was that simple. As with most lotions there was definitely colour rub off on the sheets and there was a lovely orange mark where I had been sleeping, but I have white sheets so I can bung them in a 90 degree wash so it all came out with a bit of vanish!
So is it pricey then?
The pump bottle is 250ml and only costs £17.95 which to me is a good price for such a good product.
Any other thoughts?
I would definitely apply this and then go to bed, the colour guide is pretty dark and I looked like I was made of orange clay!

Overall I give Lauren's Way tan a 10/10.
I was pleasantly surprised with the colour and lack of smell. If you like Fake Bake then I think you would like this tan.
PR Sample