"The Estée Lauder Michael Kors Very Hollywood Color Collection is a group of limited edition products that I have wanted since I saw a picture in a magazine publicising the launch and I nearly screamed in excitement haha! This year I have been so into beige, if you told me that last year I would have said you were crazy but I love it now! Beige is cool, it's no longer for the over 80's who wear plastic rain bonnets you know.
Michael Kors is a name synonymous with Hollywood (and he even has a perfume named Hollywood) and this range of makeup is called Very Hollywood which is divided into the Bel Air Beige and Rodeo Pink colourways. This is (in the UK at least) quite difficult to get your hands on unless you buy online, or in one of the major department stores on Oxford Street. I am not sure if it is still going on but last week House of Fraser was the only store doing a GWP if you purchased 2 or more products and sold the Michael Kors range.
You can get Estee Lauder from
Estee Lauder uk website
debenhams
I had planned to pick up Sunset Coral blush, the highlighting powder and a lipgloss however upon swatching the blushes and highlighter I was not impressed with the colour to price ratio! They cost over £20 each and look similar to colours I already have so instead I picked up
Lip Sheen Lipstick – Starlet Rose £17
Lip Sheen Lipstick – Honey Blonde £17
Starlet Rose – creamy medium rosy pink
Honey Blonde – mid beigey brown, very sheer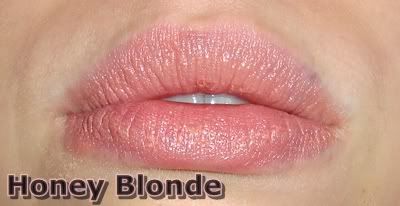 These lip sheens are very creamy and moisturising, I like the packaging a lot more than the usual Estee Lauder lipsticks and they last a decent amount of time. They are sheens so they aren't as pigmented as normal lipsticks however Starlet Rose is quite pigmented if you apply a few layers and it is more like a YSL rouge volupte. Starlet Rose is my favourite thing out of the range. I would definitely recommend buying the Starlet Rose lip sheen lipstick. Honey Blonde is nice but nothing particularly exciting to write home about, you could easily give this a miss and it really is very sheer. For some reason these lippies actually smell quite like Mac ones (vanilla) result!
This is the packaging of the lipsticks
Lipgloss – Starlet Peach £16
This is a sheer peachy orange lipgloss with champagne colour shimmer. It is very sheer in application which is why I purchased the brightest one the tube, as the paler colours which looked gorgeous in the tube looked like clear lipgloss when I swatched them which I think is a waste of money. The gloss is non sticky and lasts a few hours which is ok. The scent is slightly fruity. The only thing I dislike is the wand because it has a sponge applicator and I find those really annoying. I mean look at this closeup, it looks freaky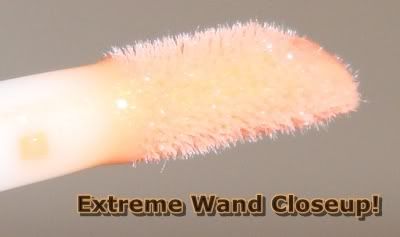 Those bristles creep me out, i just think of bacteria living in there (eew)
So how do you feel about Estee Lauder? I was given a 10 day supply of doublewear foundation as well so I will be reviewing that after my fake tan has come off, since she colour matched me to me when I was untanned!