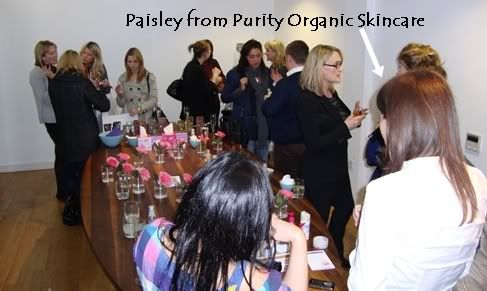 And next to paisley is Lina from makeuptomakeout
I was really excited to be invited to my second blogger event earlier this week. I found this event so helpful as most of the brands had a representative to speak about their products in a relaxed and fairly informal venue in Carnaby Street, so you could have a drink and mingle and chat to the founders or representatives from each brand. I was really sad that Lena from Korres wasn't there as I wanted to meet her and thank her for the lovely Christmas card they sent me but sadly she wasn't. I met lots of great people though.
First up I met the lovely Shelley from He-Shi who make fake tan which is aimed at both men and woman and Christine Bleakely from The One Show uses their tanner, who always has a gorgeous glow.
The lovely Shelley with her range in front of her, such pretty packaging
We were given quite a few products from the range to test out and I am especially liking the look of the He-Shi day to day gradual tan and I am hoping this is a good product. I will review thoroughly as I haven't seen a massive amount of reviews of He-Shi fake tan anywhere and there certainly doesn't seem to be much of it in magazines yet.
The He-Shi tanning range
I then met the gorgeous Paisley from purity organic skincare you can see the back of her in the top picture! I didn't get the chance to take any more pictures. We had such a lovely chat and it was brilliant to see someone so involved in all of the processes of their range and so dedicated to making such affordable good quality products with scientifically proven ingredients. Paisley shared with me a bit of inside gossip and I think I am allowed to tell you girlies that 2010 will see some additions to the Purity skincare range and potentially some different packaging, how exciting! We have the scoop!
I also had my makeup done by the gorgeous ladies at cosmetics a la carte and I was totally blown away by their range of products. They custom make different colours and textures of makeup in their shop/studio and they had created a new gel liner (outliner) that day and provisionally called it True Blue and as you can see from the picture below it is such a gorgeous vibrant colour.
Me want me want!
Cosmetics a la Carte Outliner – new shade True Blue
I then had a chat with Liz from blooming babe and compared skin allergies, as her pregnancy range was developed as she has psoriasis and it became even worse during her pregnancy leading to her searching for products and eventually creating her range to help women in the same situation. The brand has a spa range as well as a pregnancy range and I am definitely going to try out some of their products as aside from the pregnancy aspect it sounds like it is fantastic for people with all types of skin disorders. Liz is in the picture at the top with blonde hair and glasses on the right hand side.
After doing a lap of glory I decided I had been there quite a while and should probably head home, on my way out I was given this glorious bag of goodies, seriously almost killed me waiting the 2 hour journey home to root through it and see what I got!
So what do you think of blogger events?
Would you like to go to one, or have you been to one (or loads)? Or do you think they are a load of crap? Let me know babes!