Hiya girlies
I was recently invited to take part in the Gillette Venus and Braun Silk-epil 'Get Set for Summer' challenge!
I was more than happy to take part as I have used Gillette Venus razors for years and the advert is one of Matt's favourites of all time to sing along to. I say sing along, he does tend to remix the I'm your venus song – I am sure you can guess what venus is changed to!
Prior to being sent these items I was using the pink disposable venus razors which have 2 blades, to be honest I was happy with those!
The new editions to the Venus range are the Venus Embrace and the Venus Spa Breeze 2 in 1 which has a built in shave gel bar which is scented with White Tea.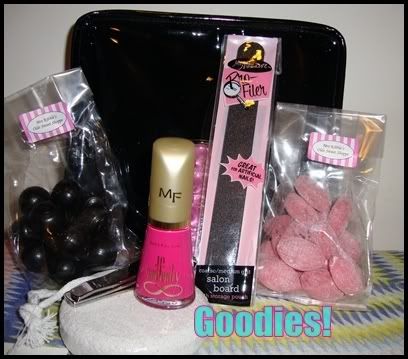 Pictured above is everything I received in my Gilette Get Set for Summer pack. And below are the two razors.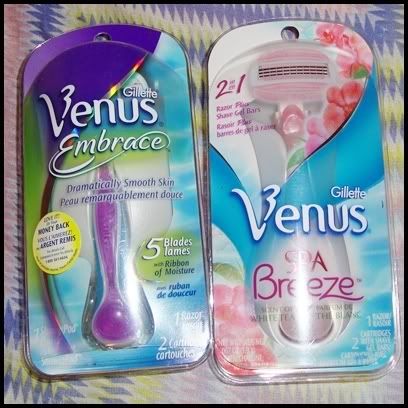 The new edition of the Gillette Venus Embrace has 5 blades (just like the mens version of the Mach 5) to give you the closest possible shave. The handle is a vibrant purple and turquoise which is very pretty (I have to say I do prefer it when it's pink). The blades are spring mounted so the blades adjust to the contours of your body and allow for a closer shave without any missed hairs. The new soft grip handle makes it easy to use in the shower without any slipping and sliding and it also comes with a ShowerPod that you can stick on your tiles in the shower for storage, I will be using this for definite as I hate when things are sat on the edge of the bath or shower, it is totally against my Monica Geller OCD!
RRP for the Venus Embrace with ShowerPod and one cartridge is £6.99
The Gillette Venus Spa Breeze is designed to be convenient as the shave gel is built in to the top and bottom of the cartridge and the gel is scented with white tea and includes skin conditioning botanicals. To be honest I didn't think white tea smelled of anything….? To me is just smells lightly floral. The pink handle is much nicer in my opinion and it has the same soft grip handle as the embrace. This also has a compact for easy in shower storage. It has three blades.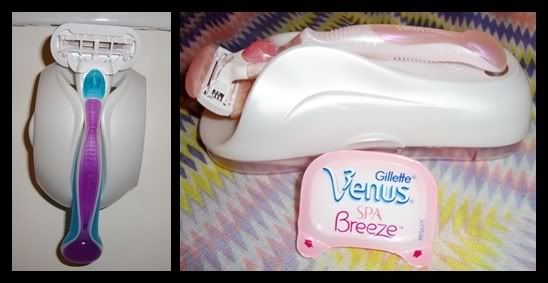 RRP for the Venus Spa Breeze and one Showerpod is £7.99
Personally I much prefer the Venus Embrace to the Venus Spa Breeze kit, not because the spa breeze kit doesn't work but I just like to apply shave gel to my legs and shave it off, as that way I know where I have shaved and don't miss any patches or go over any areas twice which can cause irritation. That being said I much prefer the colour of the Spa Breeze, I just like having a pink razor – I don't really know why although it's most likely so Matt doesn't try and steal it!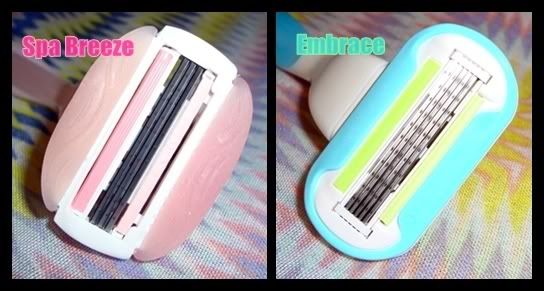 I get a much better shave as you would expect with the 5 blades of the Venus Embrace purple and turquoise than I do with my old one which has 2 blades. To be honest I doubt I will be going back to the 2 blade razors as this is much better and at £6.99 well that is pretty cheap for fuzz free legs.
I have never had any cuts, nicks or scrapes or any irritation from using these razors or any other Gillette Venus razors through the years. I wish they had these available when I was a teenager, I remember my first leg shaving experience did not go well at all! Just in case anyone is in that situation I recommend having a shower or bath to soften the hairs, then smoothing on a creamy shave gel and then using strokes starting at the ankle and working upwards and regularly rinsing your razor. Try not to go over the same area more than once as this can cause irritation and razor burn.
All in all I thoroughly recommend all Gillette Venus razors and products and I do honestly always use them myself. The best I tried was the new Venus Embrace. This is currently on offer at boots for £3.49 so half price.
Now altogether I'm your Veeeeeeeeeeeeeeeeeeennnnnnnnnnnnnnnnuuuuuuuuussssssss!