I really love that I sometimes get invited to PR events, mainly because I love meeting up with the girls and having a night/day out and hearing about new products. It's like the adult version of a slumber party!
The lovely Leanne click for her blog and I braved the yellow line last Wednesday evening -who can be bothered remembering the names of the boring lines? And travelled to Islington to visit the Boutique Nail Girls nail spa. I always get asked for FOTD but I don't usually post them cos I spend all day at work and therefore can't wear a lot of makeup but here you go anyways.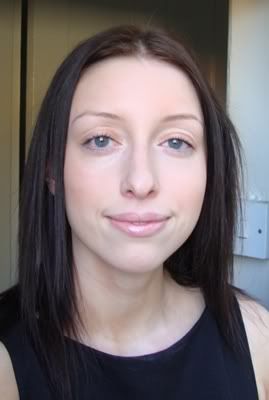 Here are the actual Nail Girls -Lynda-Louise and her sister Joanna Burrell (pictured below).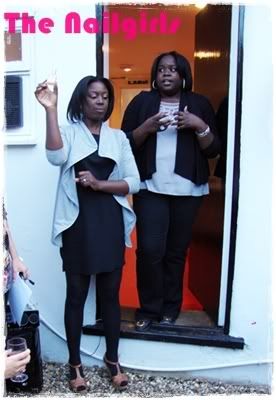 We also got to see the ever lovely Vexinthcity, Lina from makeuptomakeout was wearing a very glamorous outfit, whereas I looked like I had just stepped out of a hedge. I got to meet a few new people including the lovely Jen from http://www.beautyjunkielondon.com/
If you were there and you saw me then tell me below and introduce yourself! xx edited to add – Obviously I also saw Louise from getlippie sorry I missed you off, since you are at all of them I have ever been to I didn't realise you would mind haha!
Nailgirls is a luxurious but affordable nail spa with a difference. Every treatment caters to the needs of each customer with optional add-ons such as the purifying masks for hands and feet to the hot stone aromatherapy massage (I have had one of these before and it was amazing). Nailgirls also strive to offer something for everyone from a recession friendly menu to treatments catered towards teens, children and men.
I would definitely consider this a 'yummy mummy' type of spa, especially due to the location. It's 100 miles away from those dodgy salons where everyone is wearing a Michael Jackson mask and operating a scary nail drill! Its very pink and classy in the salon and I loved the displays of nail polish in sweetie jars and on glass shelves.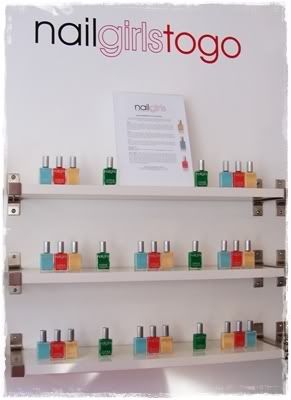 This is the Summer 2010 collection and the Wimbledon Ltd Edition (the green)
Nailgirls own line of colours, strengtheners, hardeners, cuticle treatments and files are sold online and in the spa and with over 50 nail colours in the kaleidoscopic collection to choose from there is something for everyone and every occasion.
I was given a lovely manicure with the blue from the Spring 2010 collection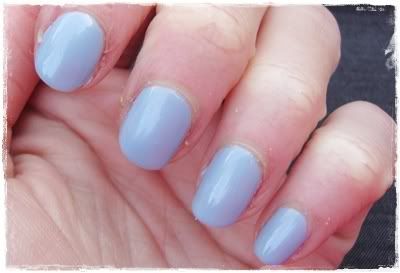 This has lasted 4 days so far, bit of tip fading but no chipping
Leanne and I got stuck into the canapes (immediately christened – salmon with bits on) had a lil rose and heard a presentation about the new High Summer 2010 collection.
The new collection uses their same long lasting formula in three gorgeous new shades: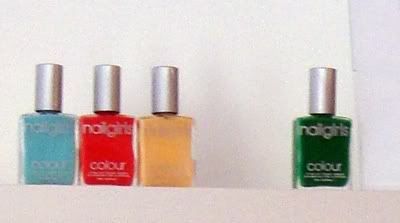 Yellow 3 – created to reflect the pastel hues and lacy sheer layers as it can be layered to create either a soft pastel yellow or a delicate shimmer
Aqua 1 – Inspired by the gingham at Christopher Kane this was created to be a youthful yet sophisticated summer colour that suits all skin tones
Coral 2 – my favourite (it matched my scarf)! A fail safe vibrant colour that livens up your skin tone and looks amazing with a tan (fake or otherwise).
Nail Girls polishes are Free from Toluene, Formaldehyde, Camphor and Dibutyl Phthalate, nailgirls products are safe, ethical and ecological.
Price: £10
Stockist: http://www.nailgirls.co.uk/
I would like to thank Nail Girls and the PR company for inviting myself and Leanne as we had a great time and I will definitely be purchasing the blue that I pictured above, it is so unusual and I have had so many comments and compliments.
Also watch out for Nail Girls Wimbledon Limited Edition nail polish out later in the year, it is the bright grass green pictured above with the High Summer collection – its so bright it's amazing, I wish they had names though, I think this would be the ultimate polish to call – Gunge! Like the gunge on Noel's house party!
Nailgirls is located at 50 Cross Street, Islington, N1 2BA
020 7359 2772