THE SUN! Well what I get to see of it from the window at work anyway.
I have also been loving a few newbie products so I thought I would update you on what I am liking this week:
I recently got the Label.M minis set and I was very kindly sent the Volume Foam also.
This is a fairly new brand and I was interested but hadn't heard a lot about them. If you want a quick review, I think these products are fantastic, great value for money, do what they say they will and perfom very impressively.
The treatment shampoo mini lathers well but not too much. This will sound weird but it feels almost creamy as you are rubbing it in! It rinses out easily and hair already feels great. It helps prevent colour fading which is brilliant as my hair is dyed with a semi permanent tint.
The moisturising conditioner is very hydrating and leaves hair feeling soft and smooth without that over the top softness that some cheap conditioners manage by coating the hair. It contains wheat and soy protein (hair is protein) it also helps with my tangles and keeps the frizz at bay.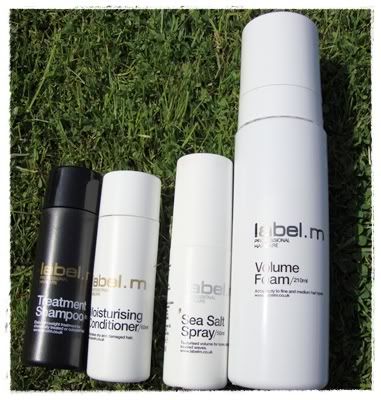 LOVE
The Sea Salt Spray creates gorgeous beachy waves or if you just use it on damp hair is gives your hair more guts and volume even if you blowdry is fairly straight. You can also spray it on damp or dry hair and scrunch it for a more wavy voluminous look.Recreate beach waves. This is a must have for me to create volume in the summer. The protein spray (not pictured) is just like the Chi Keratin Mist without that dodgy aftershave scent. I have lent it to a friend to try out hence the lack of pics.
The Volume Foam is am-a-zing love it. It's a volumising foam not a mousse, it's a heat protectant and isn't sticky. It leaves hair shiny and gives loads of volume. Repurchase definitely. It's a 3 in 1 !
Label.m minis are exclusively available at Toni and Guy and essensuals, plus label.m approved salons globally or at http://www.labelm.co.uk/
Also loving this month, taking pics of the cat, he looks so cheesed off haha!
For the first half of the week I was sporting the gorgeous Orly nailpolish called Lollipop, I have pictured it next to Model's own Lilac Dream so as you can see it is a lot lighter. I love the handle as it is rubberised and textured so even if the polish gets gloopy I will have no problem opening the bottle, which I really hate as it's always the bottle with the colour you really want that you can't open! It applied so quickly and easily, the brush is much better than the OPI one in my opinion, even the lady who did my manicure at the Nail Girls spa said it was a pretty colour. You can get these at http://www.cupidandgrace.com/
My final love for this week are my human hair fake lashes from eldorashop as requested by some followers I took pics and did a video about how to apply fake lashes. I just need to get some time to edit and they will be posted within the next week.
I also had a lovely night out yesterday at the fabulous Nailgirls spa in Islington with my date Leanne from http://www.donotrefreeze.com/
so I will update soon with pics of the evening and my lovely manicure.
Ciao for now!