I was invited to the event The Body Shop were holding on Friday and I went to the afternoon session after work. I think there may have been 2 prior blogger events but this was the first I had been invited to. It was held at the beautiful Westbury Hotel.
We were all greeted by the lovely folk of The Body Shop and headed upstairs to the room where the presentation was being held. At this point it was around 2pm and 6 hours since breakfast, I was absolutely fall down starving. So I was overcome with excitement at being faced with the afternoon tea style spread of mini sandwiches, cakes and macaroons, brownies and tartlets I think I might have cheered?. Obviously Leanne took the opportunity to pap me stuffing my face – thanks hun!
Probably shouldn't have used the Miu Miu as a tray!
The presentations commenced about the Body Shop's upcoming new launches starting with hair. The new range is going to cost less than the current range (!) at £4.00 for a shampoo or conditioner and it is formulated to cause as little damage to aquatic life in the eco system as it can, which I thought was really interesting to learn as after you rinse the shampoo down the plughole…do you really think much about it? I know I haven't before. I am also VERY excited to try the hair butters as you know how much I like body butter.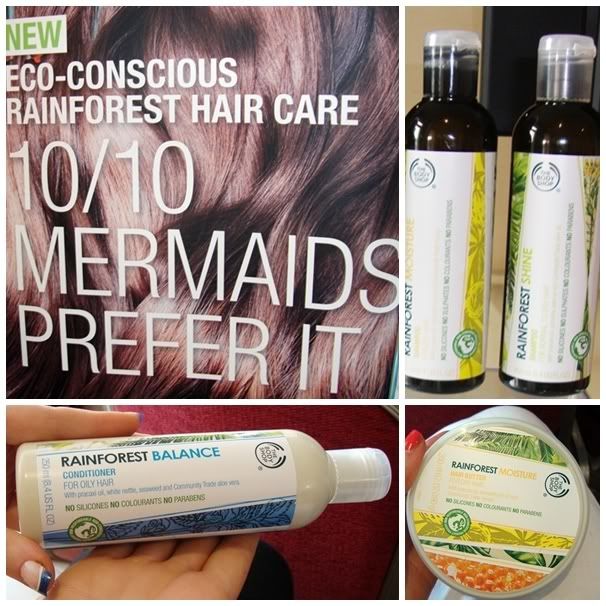 Blue nails and shampoo delightfully modelled by Lu, aka Makeuploveer
We then went through the new products for the Vitamin C range. I had only ever used the facial spritz before so I was interested in this. The standout products for me are the eye reviver duo £10.00 which has a rollerball at one end and a cream at the other to revive tired eyes and more importantly the Skin Radiance powder mix which is freshly mixed (by you) the day you open the product to ensure it is fresh, as vitamin c couldn't have been mixed in before as it would spoil by the time you purchased it. This means you get a more potent dose of the vitamin c to give your skin added brightness and radiance so I will review this once it's been tested. I have used the Philosphy vitamin c turbo booster powder which gave good results but it was really flipping expensive (£30) and this is only £12 from the body shop and includes the serum as well. Bargaino!
And finally some makeup tutorials from makeup artist Chase Aston and the lovely models, the one I managed to get a snap of reminded me of Lucy Liu! The new range is called Baked To Last and each product is slowly baked for 24 hours in Italy on teracottta discs to give intense colour, depth and coverage. These contain less talc and more pearls than regular powders which means they have an incredible sheen to them.
They contain marula oil and olive oil which are both community trade.
The eye colours RRP is £9.50
The blush RRP is £12.00
The bronzer RRP is £14.00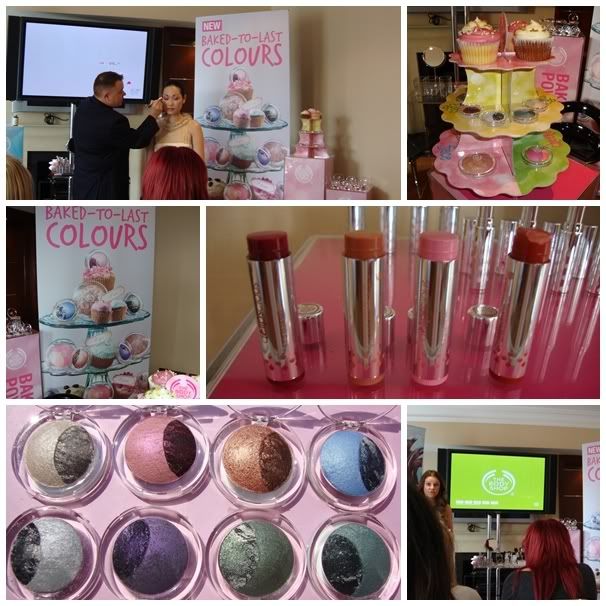 We even decorated some plain cupcakes. To the left is my one, I decided to go for a butterfly cake.
It was lovely to meet everyone even though I only got to say hello to some of you girles, next time definitely. So thanks to Barbie, Zoe, Natalie and all of the other girls who arranged the event xx