The pictures above are my 5 minute test I did with Lulu's Killer Filler Wrinkle Compound. I was seriously impressed (that's my model's forehead) I used him as he has that freckle and inimitable sun bleached eyebrows (and a bit more wrinkly than my botoxed forehead)! I thought that way you would know it was the same person, there was no tampering with the pictures apart from cropping them.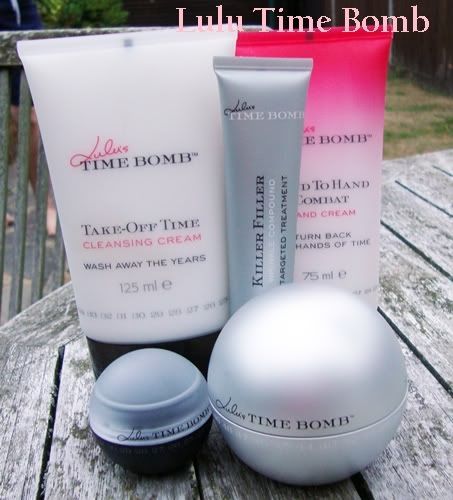 How cute is this packaging? Love it!
Lulu first burst onto the scene in the sixties with mega-hit Shout, these days she is busy with her beauty and hair care range. Her anti-ageing skin and body care lines "Time Bomb" and "Bombshell Body" are currently on sale at lulus place and QVC
The Killer Filler Wrinkle Compound is flaming brilliant, I hope Matt doesn't read this…but his wrinkle on his forehead is really deep normally and it looked so much better after using this. Hmm worst girlfriend of the year award probably goes to me. I will also be testing out the eye cream to see if it can rival the Korres Materia Herba.
The reason for me posting about Lulu's Time Bomb skincare today in particular is I was sent these to give you a heads up that Lulu Time Bomb range will be the focus of the QVC TSV (today's special value) on Saturday 31st July. I am not sure exactly which products will be in the TSV so you will have to go and check it out and see.
If you click here QVC it will take you to the main QVC page where they will show the TSV starting from midnight 30th July and going on until 31th July 2010 at midnight.
I love QVC but hate their exorbitant postal rates, seriously what are they on? But if you buy a TSV the savings are usually so great it makes up for the postage charge and best of all, after 30 days if you didn't think the products worked or you hated them, you can just send them back for a full refund!
I had assumed the Time Bomb products would just be for mature ladies, but girls I have to tell you something. I read the other day that your collagen production starts diminishing from age 21! How depressing.
QVC – What are your thoughts? Brilliant way to see the products up close or annoying channel?