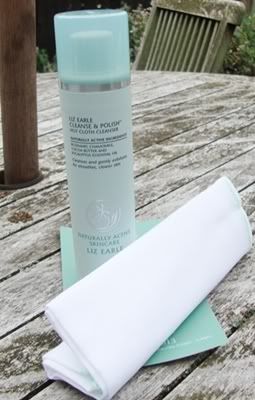 Before I start there are 2 disclaimers
1) despite using Liz Earle products many times before (prior to blogging): I was sent this lot
for free
2) I have included at the bottom of this review a paragraph on the natural aspects
of Liz Earle so please don't get your knickers in a twist before reading
that (feel free to knicker twist afterwards)
.




Liz Earle skincare. My mum loves
it, people at my office love it, and before blogging
the cleanse and polish was repurchased often by yours truly. So what
happened? I suppose you could call it 'grass is greener' syndrome,
added to the chore of continually washing the flipping muslin cloths.
Cute zippy bag with instructions
Liz Earle products are sold in her two
shops (London and IOM) and are distributed in John Lewis, online and via
QVC. My favourite place to buy though is their Factory Seconds Store on Ebay! It's cheaper due to the packaging having a few marks on but it works
for me – I like a bargain. A good thing about buying her products is they come packaged very nicely and make perfect gifts especially for mums! A 200ml pump at the regular price costs £21.50

The most hyped product in the range
and one that is undoubtedly my favourite is:
Cleanse and Polish – Hot Cloth Cleanser
I love this for the fact that it is
just so easy. One pump massaged into my face seems to melt all the
pollution, dirt, grime, makeup, mascara and liner off my face which then
lets me wipe it off swiftly and easily with the muslin cloth. It
leaves my skin feeling smooth, soft, supple and definitely not dry
or stripped of oil. This does not aggravate my eczema and even
seems to help me get rid of it when I have a flare up. I love using this in Winter.
One pump is easy to massage into your
face. It's quick and easy to use and let's be honest anything that
makes removing makeup less of a chore has to be applauded and this
does just that. For those that haven't tried it I would suggest trying
a mini from ebay, just to see if it's your type of cleansing routine as
it does involve muslin cloth. If you are really on a budget try buying
mothercare's muslin cloths which are massive and cutting them up
into small squares.
Please do wash your muslin cloths daily otherwise
you will just be rubbing bacteria all over your face – nooo!
The ingredients
Overall I would definitely give this
cleanser 9/10. Its good for me (facial eczema, dry or extremely dry
skin). My one bubgear and the reason it's not 10/10 being the endless
muslin cloth washing.
My personal thoughts are that this could be improved by providing muslin cloths
that are 1/2 the size they currently provide you with; for example instead
of 2 large, I would rather have 4 small cloths.
The whole routine doesn't
work as well if you use another type of cleansing cloth such as a flannel
(I have tried) and some of us have better things to do than spend their
life washing things (well maybe not better but…more interesting – like
shopping).
Natural Products – How Natural Are They?
Liz Earle prides itself on being a natural brand, and it is certainly much more 'natural' than the chemical
filled products that usually grace the shelves of Boots et al but
some products in the range do contain parabens and synthetic fragrances,
the Company was also recently sold to Avon. These issues have caused a
bit of controversy both on and off the Liz Earle website so I wanted to
quickly mention it, as I don't think glossing over it will help give you
an informed opinion.
It does mention on their website
that they use food grade parabens in some of their products. Now I am not too sure on exactly which ones as they don't list all ingredients of each product only the natural ones. I don't think they are being hypocritical using parabens as they do write it on their website, plainly to see. I also don't think from the ingredients list above that the cleanse and polish contains parabens.
While I personally enjoy her products, if you are against/allergic to parabens
even in small measures or if you want 100% organic product then some of
the products in this brand are unlikely to be for you (they are not organic
products).
I do also have the Superskin Moisturiser
to review but I am getting close to deciding whether to purchase a fullsize
one for the Autumn/Winter when my skin really goes to flaky hell so I think
it is best, if I do indeed purchase my own or not, to wait until I have
decided before reviewing. Needless to say, since I am even considering
purchasing, that I do really like this cream a lot.
So what's your opinion on Cleanse and Polish? And Liz Earle in general? And should I buy the fullsize superskin?? Hmm?