Benefit Goodies
I went to the Benefit counter to replace my old Bo-oing concealer and after taking a closer look at the counter I couldn't resist picking up a few other things too. I love the packaging of each product, it's been ages since I got anything from Benefit and I had forgotten how cute the brand was.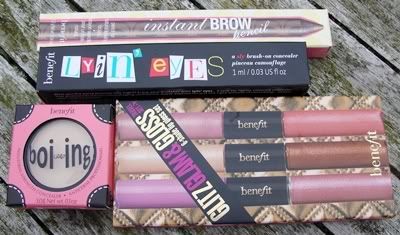 Glam Glitz & Gloss Set
Friends in High Places: a shimmery rose
Kiss You: a shimmery violet
Almost Famous: a shimmery bronze
Zone Out: a shimmery cool gold
I'm With the Band: a shimmery golden pink
Freshly Squeezed: a shimmery pinkish coral
The glosses are so delicious and I love how you get two in one as I normally tend to have loads of glosses floating round my handbag. Kiss you is my favourite shade, a surprisingly flattering shimmery lilac that is sheer enough to let some lip colour shine through which is more flattering.
Lyin Eyes

I wanted a new undereye concealer that was a lot thinner in consistency as I have been finding that while my MUFE waterproof concealer is great coverage, it goes cakey within a few hours which just exaggerates my undereye circles so has become essentially pointless.
Whilst looking like a touche eclat style pen this is actually a proper concealer rather than a highlighter. I really like the thin consistency and was shocked (in a good way) to find I was shade #2, thanks fake tan! This doesn't cake or crease and while it doesn't cover every last bit of the dark circles it also doesn't look ridiculous after a few hours wear, so a winner from me. It is also handy to carry around for touch ups.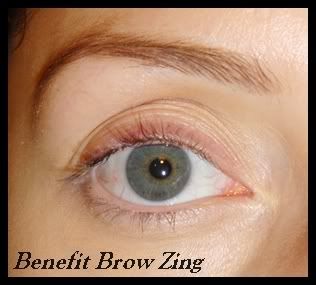 Instant Brow Pencil
This was an impule buy as I remembered reading a lot about it and I am really pleased! I am finding this a lot easier to use than the other brow pencils and powders I have used as the spooly at the end really helps you get your brows in the perfect shape before and after using the pencil which is very creamy. The shade I have is medium dark which I think is a good match, it's very natural. My brows haven't rubbed off by the end of the day whilst using this so that is really impressive
Bo-oing Concealer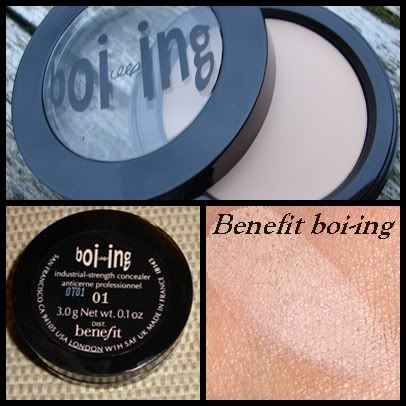 I don't get very many spots or redness but if I do this is a super duper coverage concealer. It is a bit strange that it only comes in 3 shades but I always get 01 and then mix a bit of it with whatever foundation I am using to make it the right colour so it matches whether I am pale or tanned (money saving or what)?!
Nars Goodies
The lovely Zara booked me in where she works with another makeup artist (Kirsty). I really wanted her to show me was how to use Mekong eyeshadow as whenever I look at it in the pan I want to buy it but whenever I swatch it it just looks like a dirty smudge – not one to be beaten by an eyeshadow I asked Kirsty if she could show me how to use it so I didn't look like I had been punched in the eye and I took some pictures once it was done.
I really like the look she created and I bought the Mekong eyeshadow as well as Sugarland eyeshadow duo as we decided that the paler colour would also tone well with Mekong. The only thing I wasn't that struck with was the mascara, it is Laura Mercier's new one and as you can see my lashes are barely visible when my eye is open, hardly volumising or lengthening at all, so at least that's taken that off my want-list!
I will do swatches and a proper review once I have used them myself but I have to say the pink to the right of the duo is absolutey gorgeous and so so pigmented and shimmery. I love it!
Mac Pro Longwear
I had my foundation, blush and lipstick touched up today whilst I was given a tour of the beauty services as London's Heathrow Airport (terminal 5). I shall go into depth about the other services and products in an upcoming post however I wanted to say that I am in love with the pro-longwear in the way she applied it to my face.
She mixed pro longwear in NW20 with strobe cream in a ratio of 2:1 on the back of the plastic lid above and then buffed it onto my face with the Mac 187. The result was a less cakey and less coverage version of the pro-longwear with added luminosity and more moisture. It has still lasted the full day and she made me two sample pots 1 of the strobe cream and 1 of the pro longwear so I can try it out for a few days before I decide whether I want to buy a fullsize version of either.
This is the lipstick she chose for me- it's called Dare You and didn't come out (on me at least) half as dark as it looks in the tube so I will get this next time I back to Mac.
Hopefully I will be back with a new video tomorrow, my new hairdo was delayed as my appointment today was cancelled so I shall try again tomorrow!
Do you love shopping at the airport? What do you think about Benefit?