Precision Foam Colour
Last week John Frieda launched a brand new hair dye which is designed to be used at home and fix the main problems that women have with home colourants namely:
Poor colour saturation and patchy results
Dripping colour running down the neck and ears and making a mess of the house
Having to buy 2 or more packets of hair dye if you have long and or thick hair
The range, which hits Tesco, Sainsbury's, Boots and Superdrug in mid November is the first permanent foam colourant for home use. The product has taken seven years to develop and was trialled in Asia under a different name.
I attended a blogger launch event where we watched a model apply the haircolour with ease to herself in front of us and then we watched after it had developed her hair being dryed and styled so we could see the colour and shine.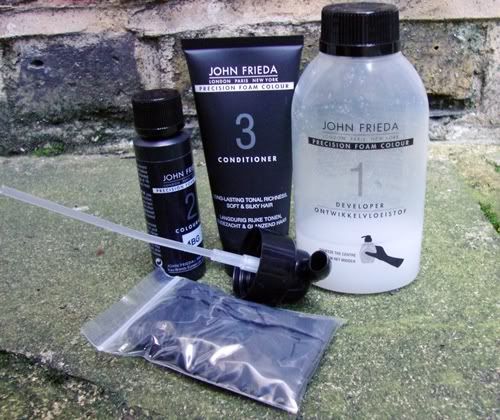 Each Kit Contains
Each John Frieda® Precision Foam Colour kit contains:
Developer
Colourant
Foamer
Professional Gloves
Colour Keep Conditioner
My thoughts
I think this is a great improvement in home hair colouring and it was easy to see at the demonstration that the model had no trouble mixing the colour, creating the foam and applying it to her hair in an even way and we could see that there was no mess or dripping product. After her hair was left to develop and then washed and blowdried it was obvious that her hair was a lovely colour and very shiny, it had a translucency about it which isn't often there with home hair dyes which are often so flat and just give a block of colour.
For those people that have one colour of hair dye applied at the hairdresser or who currently use another brand of hair dye I would definitely recommend giving this a go. Personally as I have highlights it's not something I would be looking to use so as we were all given a sample to try I got the brunette version for my mum so next time she colours her hair she can review this for us.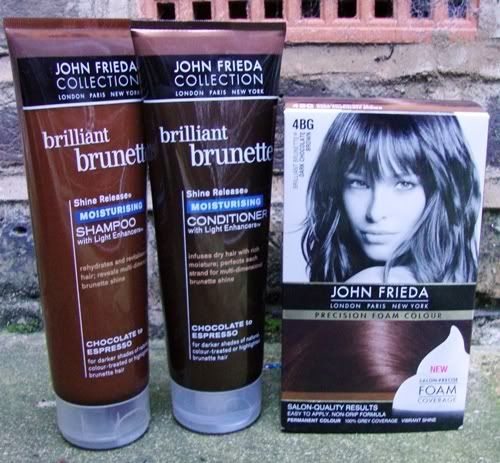 You can purchase the brilliant brunette range of products to compliment the hair dye
Available in 20 shades for blondes, brunettes and redheads, John Frieda® Precision Foam Colour works in 20 minutes for a precise colour result; 30 minutes to cover stubborn grey.
Available nationwide from mid November with RRP of £9.99
For the chance to win one of 5,000 product just click on – www.facebook.com/johnfriedaUK
Please find below a link to the How-To Video for the range
http://www.johnfrieda.co.uk/homecolour/video/product-instructional-video.aspx