Winter Skincare

I have discovered a few new products over the last few months that have really impressed me and are perfect to help my skin cope with the change of weather, putting the central heating on at home and the baffling heating combination we have at work.
Usually my eczema gets worse every Winter but I have a plan this year to keep on top of it and as I haven't had an outbreak of eczema at all this year (which is exciting for me), I am feeling quite confident.
I suppose I should now explain my skin type, as when I had eczema all the time I used to say I had dry, sensitive, eczema prone skin but I guess my skin could now be classed as normal/sensitive. I still could have an outbreak of eczema at any time but it seems to be under control.

My Current Routine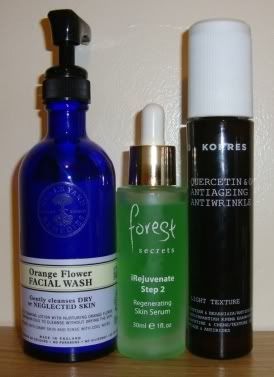 Morning
I wash my face with Neil's Yard Orange Flower Face Wash then use 4 drops of the green iRejuvinate serum all over my face and around my eyes which sinks in super quickly then I apply my Korres Quercetin and Oak light cream. I use the serum under my eyes as well so I don't always use an eye cream. If I do it's Korres Materia Herba eye cream.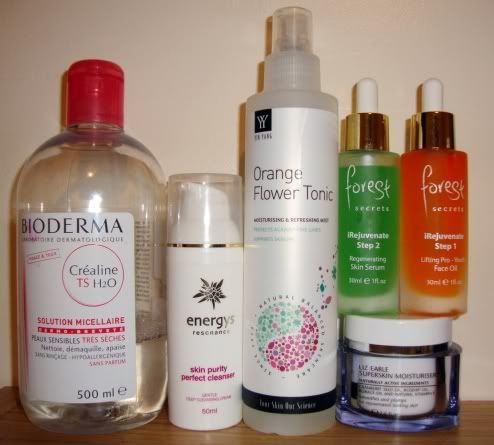 Evening
I use Bioderma Crealine T20 to remove my mascara and eye make-up, I wear lash primer and 3 coats of mascara a day so no chance of using 1 cleanser to get it all off.
I then wash my face with either Liz Earle Cleanse and Polish or Energys Resonance Cleanser both with a muslin cloth and warm water. I then Spritz with Yin Yang Orange Flower toner and then apply 3 drops of green iRejuvinate serum mixed with 1 drop of iRejuvinate oil. Just before bed I use either Liz Earle Superskin Moisturiser or Korres Quercetin and Oak depending on how dry my face is. I exfoliate every 10 days with The Sanctuary Warming Microbrasion Scrub, any more often and my skin gets irritated.
Click on the brand to read my Liz Earle, Sanctuary Microbrasion and Yin Yang reviews.
Energys Resonance Skin Purity Cleanser
This is my preferred cleanser as it is so gentle and contains so many gorgeous natural ingredients. I love creams and oils in the winter months as they are so nourishing and my skin feels so plump and clean after using this it's a definite favourite.
This cleanser contains the natural ingredients Edelweiss, Papaya, Hyssop, Pomegranate, Chaparral, Rooibos and Marigold It helps draw out toxins from the skin after a long day and removes all make-up, without stinging or burning, by dissolving dirt naturally and thoroughly so your skin really does feel amazing. It leaves no greasy residue and can easily be removed with a muslin cloth and warm water. It removes every last scrap of my facial make-up even if I have been wearing drag-queen amounts. I also love that a lot of the ingredients are certified organic and it's only £8.50! You can purchase it here www.energysskincare.com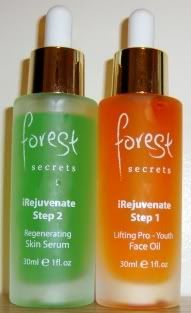 Forest Secrets iRejuvinate Serum and Facial Oil
I love that you combine these two products depending on your skin type and they are perfectly adjustable for everyone or even how your skin is day to day, if it's drier one day just use more oil etc. I find that the green serum sinks in super quickly and is amazing before my moisturiser in the morning and I just add a drop of the facial oil in the morning. They both last for ages, I have been using these for over 2 months and you can see it hardly looks like they have gone down in volume. I mix this together in my palm, dot onto my face and massage in even into the undereye area. When I wake up I no longer look terrifyingly grey my skin looks plumped and alive after using this and the tone and texture are much improved.
The products are vegan suitable and BUAV approved, they contain many natural and organic ingredients and some fair trade ingredients where possible.


I feel that these products are increasing my skin's radiance, making my skin appear more plump and improving the texture. The serum is my favourite out of all the ones I have ever tried and I really do feel that it does as it claims. You can purchase here www.forestsecretsskincare.com
Bioderma Crealine T20
This is an amazing cleanser. It looks and smells like water but it removes the most stubborn eye make-up with just a whisk of a cotton pad. Makeup artists use this during shows and I can see why, it doesn't irritate and is fairly cheap for a massive bottle as well. I did have to order this from Pharmadiscount which is a French website, funnily enough in French. Sometimes if you want something enough you make the effort! It cost around £12 not including the shipping and has lasted around 6 months so far. They accept paypal.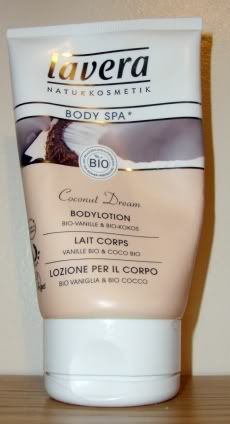 Lavera Coconut Dream Body Lotion
I love a nice organic body product and this coconut dream lotion is no exception. It is much better suited to cold weather and winter as it does take a bit longer to sink in, perfect for very dry skin, shins, knees and elbows. The smell is absolutely delectable and makes it difficult to stop myself trying to consume it. I am a massive coconut fan but this probably the nicest coconut scented product I have ever had, it really does smell like coconut cream pie. I also love that it's the consistency of a body butter but in a handy squeezy tube for less mess. And another bargain product at £5.95 from nakednutrition
Lavera Diaper/Eczema Cream
Lavera's eczema cream can also be used as diaper cream – a handy two in one! I use this on super dry patches of skin such as on my feet, my lips, around my nose if I have chapped skin or if I have any other rashes that I don't want to use steroid cream on. Lavera are organic so I feel much better about using this on chapped skin than continually using steroid creams prescribed by the doctor as they thin your skin. I use this on my body not my facial skin so I can't comment on whether it would be good for facial eczema. It contains lovely ingredients such as shea butter and jojoba oil and is fragrance free.
Stop your skin drying out in central heating or cold weather
If you are at home every day then try and keep a glass or bowl of water near your radiators if they are on all of the time to help get some moisture in the air.
If you work in a heated or air conditioned office make sure to take a lunchbreak and get out in the fresh air as often as you can just so your skin gets some oxygen
Use a facial spritz to re-moisturise your face throughout the day, it will also refresh your make-up
Switch to a thicker hand cream as your hands get more chapped in the cold weather
Buy a balm such as Lucas' pawpaw ointment and apply it around your nose and on your lips before going out in the cold to prevent the wind making them sore.
Take an omega supplement which is high in EFA's and drink lots of water to moisturise your skin from the inside out.


Do you have any cold weather skincare tips?


Disclaimer: irejuvinate and Lavera were kindly provided for free for consideration for review, everything else purchased by me.