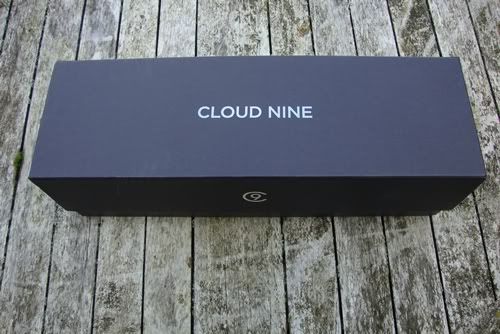 Everyone has tried to match ghd, but, as its been
developed by the team that invented that market-leading technology, not only
does Cloud Nine know how to match that, it has the capabilities to better it.
GHD's are NOT affiliated with Cloud Nine however I
do pull the comparison quite a bit simply as these are the only other brand
comparable to Cloud Nine.
Imagine
a hair styling iron that allows you to achieve breathtaking results – the same,
if not better than GHD but without constant, searing heat. It doesn't
seem possible perhaps but I promise you with this straightener you WILL get
amazing results. Or if you just want to
slap it on high at every opportunity, well nobody is stopping you.
They say "with its low, medium and high heat options, six
in total, and a perfectly constructed, rounded barrel, Cloud Nine is one tool
that enables you to achieve a whole range of finishes. You can create natural
curls and waves, or even simply smooth a blow dry, as well as crank up the heat
when you do need to achieve something more structured or adventurous."
The
features of the Cloud Nine Straightening irons
The varied heat settings mean that all hair types are catered for, from fine (like mine) to ultra thick and frizzy hair;


The flexibility to have curly, wavy, voluminous of
just plain straight hair


The iron has
black ceramic (sparkly) plates and the technology enclosed adds extra shine to
your hair;


The iron features a hibernation it automatically
switches off after 10 mins, and will only re-heat when you switch it on again;


The iron comes with heat resistant sleeve.
My Opinion


Temperature control panel
I tried a lower priced
straightener with a temperature gauge but still ended up using it on high as
the idea was good but in reality it didn't work after a few months. This is a million miles away and is
amazing. GHD's and now Cloud Nines are
the only brands where I can straighten in the morning and it last all day with
no frizz but now I get the same effect but I can have the irons on medium which
is so much less harmful to your hair, especially if, like me, you have layers
and have to do some sort of styling every day. Without straighteners I resemble Jedward. The LED panel gives a clear indication of
temperature, and it's very easy to turn it up or down and since the buttons are on the inside you don't know them while you are using the straighteners.
Swivel cord
There is a swivel chord so
your iron lead doesn't get all twisted up.
This is one of the reasons I love this as I am always getting in a
tangle! I have a straightener, blow dryer, curling irons etc. etc. so everything
usually gets tangled so this is so handy and the lead is very long so you don't
have to stand 2 inches from the plug to do your hair!
Heat guard
As soon as you have finished
using the irons you just clasp them back together, slip on the protective heat
guard and allow them to cool and you can just sling them in the drawer or on
the floor and no hot parts will get anywhere or melt anything!
RFID chip
The state-of-the-art RFID
chip allows Cloud Nine to identify each iron with its own unique ID number. This means
they can track each iron and monitor it throughout its working life to ensure
it's a genuine product only sold through authorised Cloud Nine stockists. This
technology is designed to protect you from fraud or mis-selling. Like other expensive straighteners this is an
investment so I think chipping their items is a fantastic idea.
Dual adaptor
All Cloud Nine irons are
supplied with a standard two-pin Euro plug, but have been fitted with a UK
3-amp adaptor. To use the iron in a country outside of the UK that uses the
two-pin Euro plug, simply remove the screw that's positioned between the three
pins and remove the adaptor from the two-pin plug. Now this might sounds technical but it means
when you go on holiday to the USA, Mexico etc. etc. your straightener doesn't get to about 80
degrees then stop leaving you with a massive head of frizz and trying to resist
the urge to mash your straightener into the wall! In Mexico this exact thing
happened to me and my hair looked like a fuzzball so a dual adaptor is seriously
necessary if you are a traveller.
Overall
This is a really excellent
hair styler capable of so many different hairstyles but if you
want to watch a video I certainly recommend watching this one How to curl your hair with straighteners by Holly.
I think the straighteners are absolutely worth the price. They come in amazing packaging which, if you
think that things like this are often bought as a present, is fab and pretty
impressive, they look sleek and sexy and really do work.
If you are looking for a brand to replace your GHD's then Cloud Nine is
definitely something you need to look into. I use mine on medium every day and
my hairdresser has said my hair looks better than it did previously using
another brand daily!
Cloud Nine sent this to me for review. They are available from salons nationwide, priced at £129.99. It
is also available to buy at www.cloudninehair.com