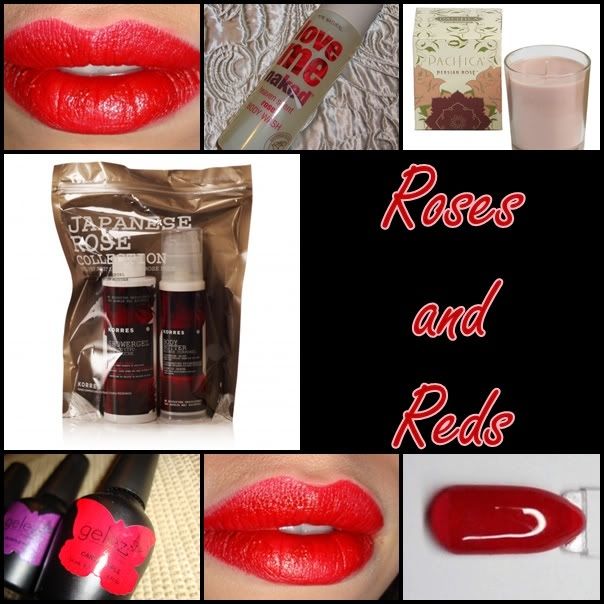 Click to Enlarge
From Top Left
Lord and Berry Lipstick in China Red Vogue
This lipstick is very creamy and smooth to apply. The colour China Red Vogue is slightly blue toned which makes your teeth appear whiter and the rosy pink undertones help make you lips look squidgy and kissable rather than stark and a 'scary red'. I adore this colour, it is a lot lighter on the lips than in the tube and I prefer the true colour it shows on the lips. This is a very impressive lipstick and lasts a good few hours without smearing or smudging probably due to the matte velvet finish. A definite must have for red lip lovers and only £11 from asos
Naked Bodycare Shower Gel in Love Me (Rose Scented)
I am always impressed with Naked Bodycare's shower gels and this is my current favourite, they are all £3.99 for 250ml which is especially bargainous considering the 97% natural contents, the fact that they are vegan friendly and
the fact that they are a-mazing! This shower gel contains both rose and palmarosa oil and the scent smells like an expensive perfume. I will be buying backups of this for the cupboard for sure. £3.99 from Naked Bodycare
Pacifica Candle – Desert Rose
Depending on where you buy this, the candle costs between £12-14 and lasts for 100 hours of burn time. None of their products are tested on animals and all are suitable for vegetarians as they use natural soy wax and a blend of natural and essential oils. Desert rose smells gorgeous and the scent throw is fabulous. Definitely the perfect way to set the mood on Valentine's day.
Korres Japanese Rose Collection Gift Set
My favourite brand has a beautiful gift set which is just perfect for a Valentine's gift to yourself! The pouch contains 250ml of their beautiful Japanese Rose shower gel which lathers to an amazingly scented creamy foam and a 150ml pump of the Japanese Rose Body Butter. Korres' body butters are the best as far as I am concerned, not least because they come in a pump so you don't end up with cream stuck under you fingernails. The Japanese Rose scent lingers for hours and smells delicious if layered with one of their new perfumes. Purchase from Bathandunwind or Oliver Bonas for around £18.50
Gelez Gel Nail Colour in Candy Apple
One of the colours I purchased to use within my beauty business. I love it! A bright vibrant red that looks so classy and with a flawless finish for 2 weeks.
Lord and Berry again
Gelish 21 day Gel Nail Colour in Hot Rod Red
Another one of the colours I purchased to use within my beauty business. Gelish is a 21 day gel nail polish manicure. Slightly darker than the Gelez Candy Apple it is the perfect Louboutin Red.
Do you like red nail varnish and lipstick? Do you buy youself a Valentine's gift? I always do, they do say love yourself and others will follow which = present for me!
Pr samples: Lord and Berry Lipstick, Korres Set