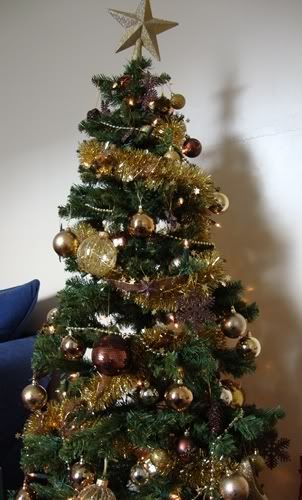 I am not sure if anyone in interested but this is our Christmas tree for 2009
chocolate brown and gold was the theme. BF and I spend our first Christmas alone together in the house which was lovely.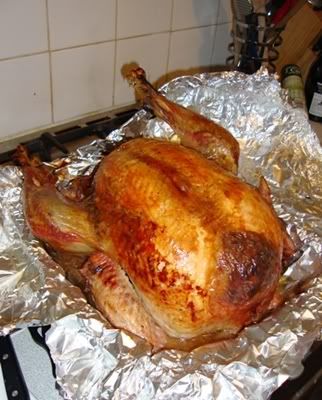 And this is our turkey, now it was just for 2 but we wanted there to be enough for sandwiches, leftovers, curry etc. This is the first one I have ever cooked and I think it went really well.
And this is our little dinner for 2! We didn't bother with lots of table decorations etc. since there were only two of us, and we couldn't actually manage to eat even half of the dinner on those plates, so the fridge is basically still full of food. It was also the first time I have tried sprouts, and may I just say EWW they are not good loll!!
Our menu was:
Turkey
Sage and onion (with sausagemeat) stuffing
Ham cooked in coca cola
Pigs in blankets
Sprouts
Roast potatoes
Honey and mustard parsnips
Carrots
Gravy
We managed a small gingerbread muffin each for dessert(rather than the trifle we had bought) but we are still stuffed to the brim, about 5 or 6 hours after eating so we can't fit in any trifle!
My present from the BF was a new 12.1 megapixel Sony camera so I am hoping my pics will be better from now on, I will try anyway!
Did everyone else have a good one? Have a lovely Boxing Day tomorrow xx