Before Christmas I made an order with Zuneta which is a lovely website that sell lots of niche beauty brands such as Rouge Bunny Rouge and Hourglass, if you haven't tried them then give them a look as they sell lots of gorgeous things. Some of the brands are a bit expensive so I decided to try a few things from Korres colour range since I love what I have tried so far. I would love to buy the entire range of Rouge Bunny Rouge and I know it's supposed to be amazing but still..it is even more expensive than Chanel !
Here is what I picked up after watching Tali's review video on youtube as I haven't tried many of their cosmetics (I have tried the bronzer, blush and mascara specifically).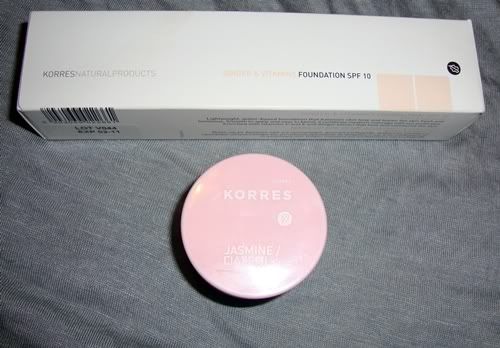 Korres ginger and vitamins lightweight foundation which has an SPF of 10. I like that it has SPF as my eczema cream makes my skin more sensitive to the sun. I got shade LF1 and as it is sheer it works whether or not I have fake tan on or not which is brilliant and saves me money buying two of the same foundations in different shades which I find really annoying.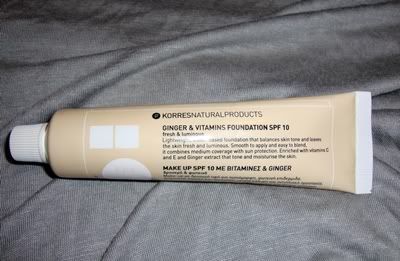 Korres Ginger & Vitamins Foundation SPF10 retails for around £17.75 in the UK
Packaging – I really like the tube packaging, it isn't heavy to carry around in your makeup bag like a glass bottle and you can squeeze out the exact amount of product that you need rather than a pump which just gives you whatever 1 pump turns out to be (and I always find 2 pumps too much) and it is much better than my annoying Nars sheer glow which has no pump and a giant hole so far too much product comes out at once, so I am loving the tube, as it's really easy to control.
Application/consistency – you only need a small pea sized amount of this foundation, it is water based and feels very creamy and light, not thick at all. This is absolutely nothing like a Estee Lauder double wear or a Dior Forever foundation, it feels how I would expect a tinted moisturiser to feel (but tinted moisturisers never actually live up to my expectations).
Coverage – this is definitely a lightweight and luminous foundation, if you have scarring, a lot of pigmentation or spots then I wouldn't really say this would be for you unless you wanted to use it on the beach instead of a plain untinted suncream to give you some sort of cover. This is perfect for me as my skin is so dry and this is so creamy and luminous that it doesn't settle in dry skin and it never looks cakey or like you have a lot of makeup on, it feels soft on my skin and when i remove it I do not think 'phew that makeup is off' as it doesn't feel heavy or cloying when you have it on. I think this would be a fantastic hot weather foundation for most people without masses of problems to cover, I will definitely take this if we go on holiday next year. This makes my skin look luminous without looking oily or shiny or greasy which is very rare to find (in my opinion).
Swatch of LFA1 Korres Colour Ginger and Vitamins Foundation
Colours – there are 6 colours available from LF1 – LF6. I am not sure if this is enough or not really, they are sheer and your skin tone can show through but I think this makeup is not exactly for you if you have very dark skin, I would say the absolute perfect skintone that this makeup for is someone with a Meditteranean colouring, but then since Korres is a Greek company that is hardly surprising!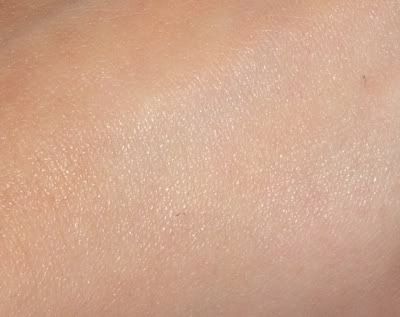 The above swatch rubbed in, skin looks even and luminous
with no obvious makep but you cannot see the veins any more – and this is a closeup pic
Smell – I had assumed the product would smell of ginger but I couldn't really detect any scent at all
Overall I think this foundation is brilliant and will most definitely repurchase when I finish this up, next up I want to try the wild rose foundation as that sounds gorgeous too.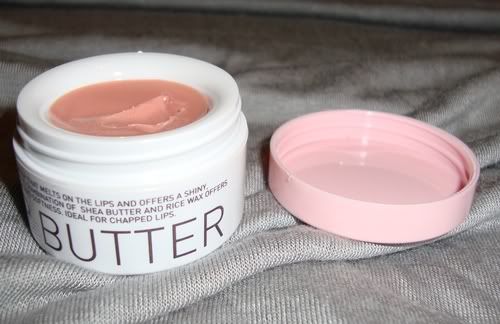 The other item I finally picked up was a lip butter. I had waited out as I don't really like sticking my fingers into pots and the only colour I liked the look of was Jasmine, which I couldn't find available for a while. But it was in stock so I picked it up: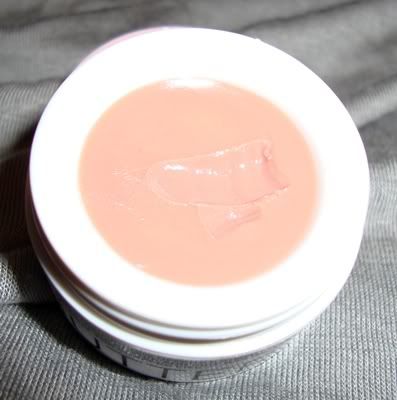 Packaging – I don't really like products in tubs and as you can see from above I have to gouge out the product with the front of my nail so it doesn't get stuck under my nails. I find it quite unclean to use a tub but it does look cute! I would prefer a tube which would be less cute but more sanitary.
Smell – mine only has a very light scent and it smells vanillery with a tiny hint of jasmine, but it is not overpowering at all and non-offensive.
Colour – as you can see the colour is a gorgeous milky pale pink. It doesn't show up that much on my lips but I prefer that, it will be much more foolproof to apply while in a rush. It sort of tones down my lipcolour slightly and makes it look paler which I like.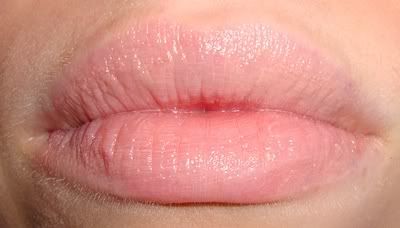 Flavour – I can't detect any flavour which I like, as it's much more user friendly.
Special Points – contains shea butter which is lovely for dry chapped lips and as with all Korres products this and the foundation are Silicone and mineral oil free, they are not tested on animals and they are very natural. I have been using this with my Body Shop lipscuff and it is a great combo for soft lips.
Repurchase – I would definitely repurchase this colour but I am not too interested in the other colours at this time, maybe if they come out with some new ones.
Has anyone tried the wild rose foundation or powder?