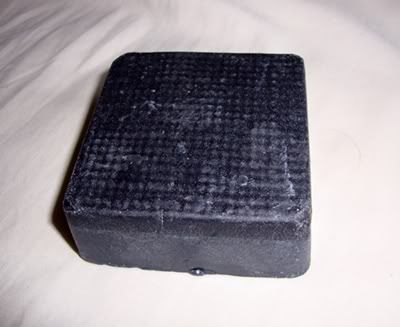 Lush you snap the whip
Price £5.00
Size 95g
Whats it for – it's an exfoliating and moisturising bar in one. Its a very very dark blue/black and one side has more scrubby bits than the other. It is extremely fruity and zingy
Scent – blackcurrant, smells quite like the purple fruit pastilles!
This blackcurrant block is a body scrub and a body butter bar and very awakening to use in the shower in the mornings. I would only use this once a week as the scrubby bits are not exactly gentle although they aren't too scratchy. The scrubby bits are made of pumice and the bar is the colour that it is due to the charcoal in the product, I have read numerous articles about charcoal being good in soaps and body products for cleansing your skin and I certainly feel very clean and revived once I finish using this. Aside from the exfoliation the bar also contains macadamia nut oil and cocoa butter to make your skin lovely and moisturised, you rub this into damp skin focussing on hard skin areas or cellulite-y areas and then rinse off, you step out of the shower feeling invigorated with moisturised smooth and gorgeous skin. The only problem I find with this is the purpley blue colour goes everywhere and I had to make sure to rinse the shower curtain so it didn't stain (cos it's white).
Lush lemony flutter
Price £5.50
Size 50g
What's it for – cuticle moisturiser that can also be used on heel, knees, elbows etc.
Scent – exactly like lemon-ice that luminous yellow ice cream they used to sell – at least when I was young from the ice cream van
This isn't just for cuticles but that is what it is specifically for, it is the thickest cream that lush sell apparently and it is so rich and thick and creamy. You can also use it on your feet and elbows and knees, I use it on my heels before I fake tan so I don't get that dodgy orange ankle look. It is really worth the money as it is so rich and really leaves my (frankly terrifying) cuticles so soft. It is going to take a while for me to personally get my cuticles back to normal as they are so damaged from my acrylic incident but this is helping so much and my nails and cuticles are no longer bleeding (yes they were bleeding, eew)!. There are lots and lots of different oils in this butter and all of them join together to make a super duper moisturising treat for your cuticles, mine feel so much better when I use this.
Lush Helping Hands
This hand cream has swiftly become my new favourite! I was a bit wary (as you can see in my lush haul video) once I realised that it was scented with Lavender since I hate lavender with a passion! However it is only very lightly scented.
Price 3.95 for 40g £6.10
Amount 100g tub
Packaging – this comes in a tub or a pump action bottle, I chose the tub because while I think the pump action will be more sanitary, I put hand cream on after I wash my hands so they will be clean! Also it is a lot easier to get the perfect amount out with the tub, if I am typing I don't want too have too much and have greasy hands or they feel horrible. I don't use hand cream 'on the go' but if you did then the pump action would obviously be better.
Scent very light scent of real lavender, in no way overpowering. I hate lavender and I can use this and think it smells nice..so it can't be very strong!
Description
This cream really heals my chapped hands in this horrible cold weather but wouldn't be too thick or greasy to use in the summer either. I really agree with the information on their website that this is good for people who use computers – it completely is, it isn't greasy at all even though it contains gorgeous moisturising ingredients such as cocoa butter, shea butter, almond oil, linseed and glycerin. This makes my hands so soft and smooth and it absorbs super quick so my computer keys aren't greasy and smeary. This does not leave your hands sticky or with any residue just lovely and soft. I really think this is a must have item for everyone and it makes a home manicure feel really luxurious.
Other hand creams I also like/don't like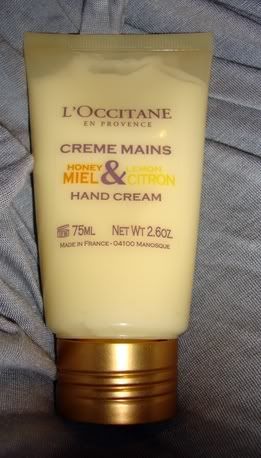 The second prize winner!
Loccitane Lemon and Honey hand cream comes a close second because it is so thick and it is a great one to use before bed but the Lush beats it hands down with consistency and the Loccitane tube is a bit weird, the lid twists and the cream comes out of the end rather than you taking the lid on and off…although this is of no benefit at all, very odd! Before using Lush the Loccitane one was my absolute favourite. I have tried all Vaseline handcreams (don't like them – too thin), Neutrogena that one that wins all the awards – waaay too thick, can't use it at work as it makes my computer keyboard super greasy and leaves my hands really sticky, E45 – I am allergic, Simple – made my hands itchy for some bizarre reason, OPI – allergic. So these are my top two hand creams now.
Matt's Lush review on the bath products and soaps he received is still to come!