I know some people favour different mascaras for different days/looks but personally all I try to achieve every time I apply mascara is to look like my lashes are as big, full and defined as possible, i.e. I try and get them to look as close to false lashes as I possibly can.
The three mascaras that I have tried and continue to use that are specifically marketed as creating a big fat long false eyelash effect are by YSL, Maybelline and L'Oreal so I thought it made more sense to do an overall review of the three together.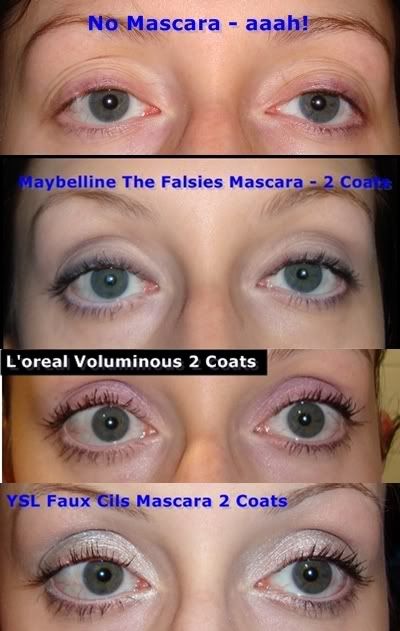 YSL Faux Cils Mascara
Packaged in a gorgeous gold tube which looks really expensive (well it should do for the price)! Long thick wand which makes application easy, no dodgy plastic bristles. Easy to get a good coat on all of the lashes. Very buildable.
For some reason this has a scent! Much nicer than the usual manky mascara smell. It is similar in consistency to Loreal Voluminous in that is is a more dry consistency whereas Cover Girl Lashblast for example is a very wet mascara and this is nothing like that.
Overall I was a bit annoyed with myself – trust me to love the mega expensive one! I think this mascara is amazing, it actually helps my lashes stay curled all day. You don't get crispy or clumpy lashes, they feel silky to the touch even a few hours after applying and it didn't flake or fall under my eyes, it also didn't smudge. I use two coats and that is perfect. The wand is great, and the pigmentation is good and it makes my lashes very dark. I have worn this with my contact lenses and even while applying eye drops and there is no irritation. I will repurchase as this is a brilliant mascara. Now they just need to take £6 off it and I would like it even more!
The Falsies, YSL Faux Cils, L'oreal Voluminious
L'oreal Voluminous Mascara
Packaged in a nice tube, nothing particularly special but it looks functional and classic. The wand is really easy to use and one of my fave things is that the end is tapered so I can really get into the smaller lashes at the inner corner of my eye.
The dry formulation is similar to the YSL Faux Cils, when you apply to your lashes it dries quickly so it's easy to apply as many coats as you like. On me it doesn't clump or smudge or flake off.
Overall this is the most comparable to YSL that I have found for a cheaper price, yes the packaging is nowhere near as nice and you don't get quite as much lash defninition but I would say its about 80% there. A good option if you can't afford YSL and certainly much much better than a lot of drugstore mascaras. I would probably pick this one if I was only able to get mascara from the drugstore. This also is fine when I wear my contacts and is unscented.
Maybelline The Falsies Mascara
This is packaged in a pinky purple tube which is pretty, it doesn't appeal to me as much a black personally but I do have a bit of a black obsession! The wand is curved which I really like, I remember when we had covergirl in the UK and their mascara wand was curved and I felt so cool using it lol! It really helps to get into the roots of your lashes which is always a good thing, especially if you have blond lashes like me.
The formulation is slightly wetter than the other two, which means it takes longer to dry between coats and it does go a bit more clumpy and I had to use a lash comb which I didn't with the other two. I also had to use three coats to achieve a more false lash effect while the other took two. The curved brush makes it really easy to do the bottom lash line, much easier than the other two and this makes them look super long as well which I love. I love doll eyelashes! This was also used with my contact lenses and there was no sensitivity and it didn't give me crispy dry eyelashes either, they were nice and soft.
Overall this is probably the least false lash effect giving out of the three however at £5.99 it is a brilliant lower end mascara and the absolute best Maybelline mascara I have ever used, usually i don't like them – I especially dislike the one with the green lid, that is the worst mascara ever! This totally blows that out of the water and really does make my lashes look long and full. If you are on a spending ban or just can't afford one of the other two then I would definitely check this out, as even though it came third there were a lot of mascaras that didn't even make the cut.
Have you tried any of these mascaras?