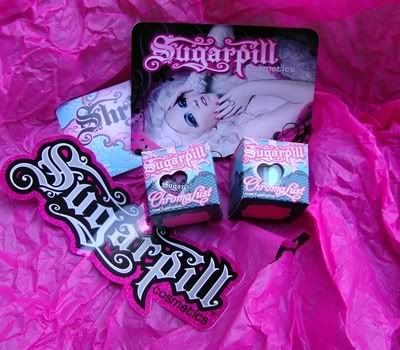 Sugarpill cosmetics are a new range created by a lady called Amy who sells products on ebay under the name Shrinkle. The website is Sugarpill Cosmetics
I saw the new items online at Temptalia and went straight to the website and made an order, the pressed shadows looked nice but I seriously wanted at least one Chroma Lust Loose Eyeshadow as they looked stunning.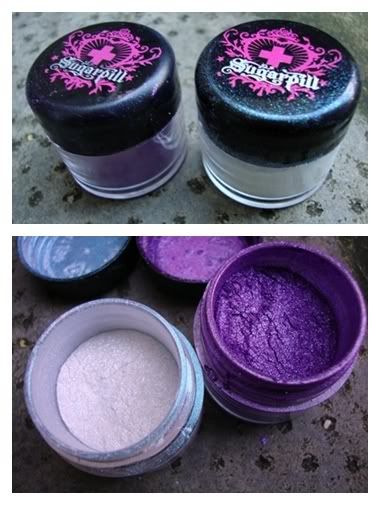 Sugarpill have released eleven shades of Chroma Lust Loose Eyeshadows which cost $12 each. They are really finely milled and I was actually shocked by the colour payoff as it is so rich, and applies so smoothly. Many of the eyeshadows are vegan but not all so check out their website using the link above if you want something specifically vegan.
They are super bright alone but with water/mixing medium/fix plus they are even brighter. If you favour wild and wacky shadows then these are definitely for you, but also if you prefer something natural and girly they can be applied lightly and blended out and still not look over the top.
Swatches are of the pigments dry
As I had them shipped internationally I didn't want to order more than two as I didn't want to be charged for customs so I picked Hysteric which is a medium purple similar to Urban Decay's Asphyxia but with multicoloured shimmer as I was instantly drawn to this as it's gorgeous. I then decided from the Temptalia swatches that Lumi would be a good second colour as it is an iridescent white which reflects a teal green shimmer and apparently looks like Mac's transparent teal (which I don't own) but for much cheaper – sold!
The other colours available are Asylum, Decora, Goldilux, Junebug, Absinthe, Magpie, Starling, Royal Sugar, and Tiara.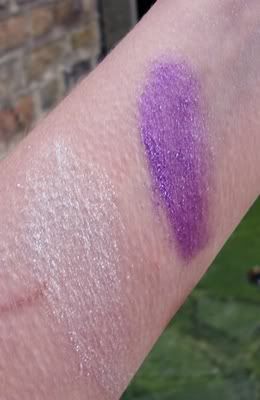 The packaging is super cute and I was very impressed by the overall package that I received from Sugarpill with a little sticker and picture as well as my items and a note thanking me for my purchase. The eyeshadows are around the same size as a Sleek MakeUP loose eyeshadow pigment so you get a lot of product for your money. There is no sifter or insert in the lid but this doesn't bother me, my Mac ones always end up pinging off and making more mess anyway! You can see a gorgeous girlie's funky brights look using Sugarpill here biorequiem
I would definitely recommend these loose shadows if you like a bright pop of colour and you like loose eyeshadows as while they aren't as functional as pressed powders (which Sugarpill also make) they really do have a fantastic colour payoff, wet or dry and I am loving them!
So have you tried any products from Sugarpill? What are your thoughts?