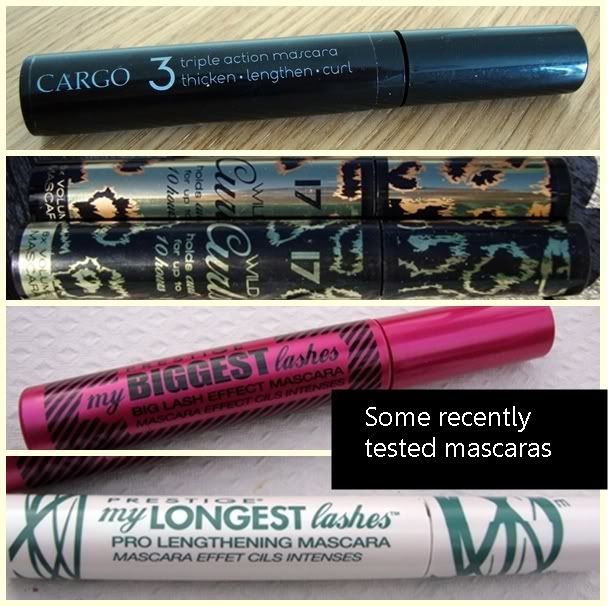 I posted a while back about my mascara buying ban. I have done well, only purchasing one mascara which is the 17 Wild Curls and at £5.99. For me to show any restraint at all is very rare.
It does help however if you happen to be sent mascaras for free which has happened and I have to say overall, while two of the new mascaras were definitely recommendable, I still prefer my L'oreal Voluminous in Carbon Black to all of them for my personal use. I thought I would share them all with you so I hope this saves you money!
Cargo 3 Triple Action Mascara
This was my least favourite and there is only really one good thing about it and that is the sleek black packaging. The formulation didn't work well for me at all and my lashes felt too wet and sticky. The '3' on the tube it as it is supposed to be a 3 in 1- lengthen, volumise and curl mascara however it seems to advise the amount of times you will have to wash your eyes with eye makeup remover to get this off, it has the consistency of dye mixed with superglue. Not lengthening nor volumising and definitely not curling, I failed to see any benefit to this mascara whatsoever. A shame as I have enjoyed most Cargo products that I have tried so far.
17 Wild Curls Mascara and Wild Curls in Wildest Black
Overall the best value mascaras out at the moment these bad boys only cost £5.99 and I even got a little eye kit when I purchased my regular version.
Wildest Black is due out near the end of the year and is superior to the standard version in packaging, wand and colour as it is a more intensive black created (according to their stunning makeup artist Vanesa) with blue pigments to make it look as dark as possible.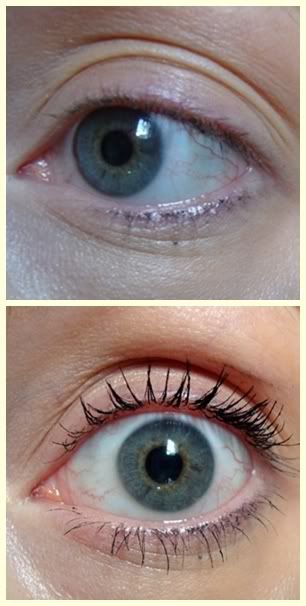 My lashes are blonde which is
why you can't see them in the before pic
Both mascaras lift and define my lashes amazingly but the best thing is that they really do life and curl them for the whole day, no word of a lie. The only problem – they dry up so fast, in around a month – this isn't a huge deal if you use the same mascara every day, but if like me you have a lot it is a bit of a waste. Overall my favourite out of the ones I have used in the last month is definitely the wildest black mascara.
Prestige – My Longest Lashes, My Biggest Lashes
At £6.49 and £5.99 respectively these are very well priced drugstore mascaras until you realise that you have to buy BOTH of them to get the effect of long and thick lashes, as, just like it says on the packaging, one lengthens and the other volumises – and you really need to do both to make an impact.
I like the My Biggest Lashes best and find that it gives maximum volume and curl without leaving crispy lashes. The brush is a bit too big to get into the lower lashes and this is where the My longest lashes comes into it's own as the tiny spikes grab even the tiniest of hairs and lengthen and separate.
One of these would be perfect if you already have thick lashes you need longer or long lashes you need thicker, but if you want a mascara to do both you won't find it in each of these separate tubes, you would need to use both. I do like both mascaras but at a combined total of around the same as a Mac mascara I wonder if your money would be better spent elsewhere.
So have you tried any new mascaras recently? What do you think of the Wild Curls hype? Do you like these posts where it's more 'what not to buy' rather than recommendations of what to buy?