At the moment, I have a bit of an obsession with Nars. Its never been a brand that I have been overexcited about but recently I am loving their eyeshadow duos. When I went to visit the amazingly gorgeous (even whilst ill!) Zara for her Nars advice I decided I really had to have the newly released eyeshadow duos in my life. I also grabbed Mac's eyeshadows in Restrospeck and All that Glitters eyeshadows and Angel lipstick as I have wanted them for ages but never got around to buying them having been seduced by more Limited Edition items each visit to Mac. I haven't been feeling great this week, rather self pitying and exhausted – I really need to hibernate this weekend or at least learn some tricks from Benny and just curl up and chill out.
I didn't buy everything on friday but since I played around with it all yesterday I am calling this my Friday 13th Haul!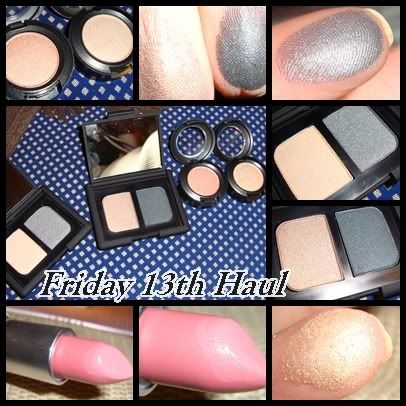 Nars Rajasthan Duo – I have only recently got into gold eye shadows but now I am loving all kinds of gold, antique gold, rose gold and pale blondish gold. The Rajasthan duo was a must buy and was destined to be mine. The dark brass gold is so intense and pigmented and the texture is almost buttery, as is the peacock-esque metallic navy which is so smoky and gorgeous. I really do need to practice my smoky eye now Winter seems to be fast approaching and it will be nice to use a dark blue rather than black. I wore this duo yesterday in a more toned down-work appropriate way so it's very versatile. I am seriously converted to Nars duos now, I don't think I would buy the singles as its just more economical to buy the duos…maybe I might make an exception for Mekong – do you like that colour? I also picked up Tzarine but I haven't had a chance to use it yet.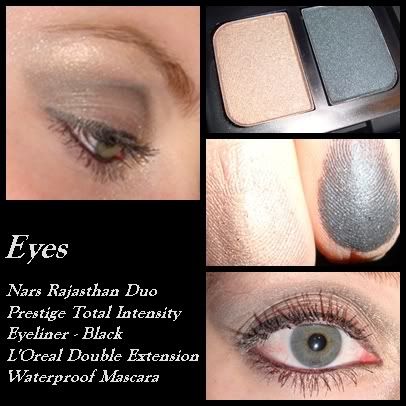 Mac – Angel Lipstick this is one of Mac's most famous pinks and Kim Kardashian is even a fan. It is a frost lipstick but I don't find it frosty at all which is a bit strange. Its lovely a creamy! It is so much more wearable than Viva Glam Gaga and much better all around with my skintone. The shade mimics the colour in the tube when it is on your lips and it's so wearable I am so glad I finally bought it.
Prestige- Total Intensity Eyeliner – Bargainous! This only has three colourways in my local Boots (navy, brown, black) but you can also get green and olive in some places. These eyeliners are so cheap in price but the pigmentation and softness is like an Urban Decay 24/7 liner and the black has quickly overtaken my much used UD Zero pencil.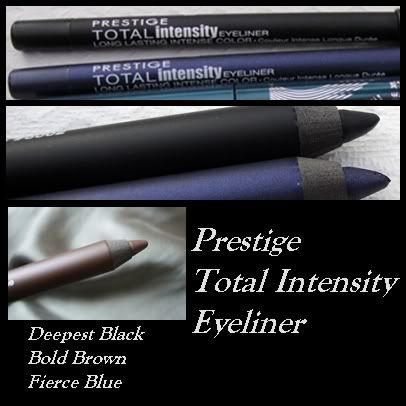 The colours come out exactly as they look in the pencil. The pigmentation is rich and they glide on so smoothly and once they are dry they don't budge. It does take a minute or two for them to dry and you can really smudge them out at this point for a gorgeous smoky effect. If set with powder they will last until you remove your makeup. They are all by far the best drugstore pencil liners I
have used and rival most high ends as well. I really don't think you will be disappointed if you try them out.
Blog Birthday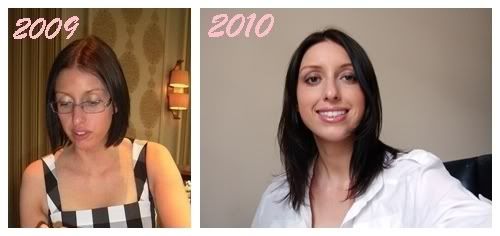 Tomorrow will be my 1 year blog Birthday. I can't believe it has been a year already and how much I have changed in just a year. It's funny to look back and think what has changed and what has stayed the same. I must say I look pretty different these days although I wish my arms were as defined now as they were then. I am definitely going back to using the cross trainer vs running seeing that picture! It also funny to think from all the new products I have tried over the year I am currently using Fake Bake self tanner and Liz Earle skincare, just as I was before I started blogging!
I will be holding a small competition for my blog birthday so please check back tomorrow if you are interested.
LateLate Gifts Winner
The second try of the manicure voucher giveaway went much smoother! Thank you for all of your comments on the post. The winner was randomly selected and is:
Congratulations girlie! If you pop me an email I will forward it on to Laura from Late Late Gifts who will get your details and post your voucher directly to you.
Weather Ramble
I have read that there is unlikely to be more Summer now this year due to the pressure levels so basically it is just due to rain now for weeks on end! As sad as this is I am trying to think positively and using as it an excuse to indulge my love for soup, casserole and options hazelnut hot chocolate which is my favourite hot chocolate ever. Also nice with a splash of the amazing liqueur Amarula . I was introduced to this drink by a boss in one of my previous jobs. He often went to Africa on safari and had tried the drink, which is made with the fruit of the Marula tree. He had been given it in a hot chocolate and really recommended it. I have bought a bottle of it every winter since then, I don't drink very much at a time (so it lasts ages) but just a tiny splash in your hot chocolate if you are cold or feel unwell warms you up and it makes the drink taste so much more luxurious. I think it is definitely time to go and buy this year's bottle soon!
Do you like hot chocolate? What are your favourite cold weather goodies to make you feel warm and cosy?