New Korres Quercetin and Oak Anti Ageing Skincare
Depending on how long you have read my blog for you may or may not know, that Korres is my absolute favourite brand and today I was absolutely delighted to be invited to the press launch of two new perfumes and four new products to their Quercetin & Oak anti ageing skincare range.
Now this isn't just another run of the mill 'oooh look a pretty new product has launched' type post. The Quercetin and Oak products are absolutely amazing and even though they are natural products they are backed up with loads of scientific research AND have been PROVEN to be better than retinol!!! I was shocked by that I can tell you! As Retinol, Peptides and Hyaluronic Acid are well know throughout the beauty industry as being the gold standard ingredients in the best anti ageing creams and this beat them hands down. Go go natural product power! (sorry I seem to be having a power rangers moment).
The sciencey bit
The Korres research programme focussed their research on the function of the proteasome. Proteasome is one of the vital mechanisms that protects young cell phenotype and it acts as a catalyst within your cells breaking down and eliminating damaged skin proteins. Sadly as we age, proteasome activity declines and we get wrinkles, so to reduce wrinkles we need to stimulate proteasome activity. Easier said than done! The research focussed on 50 powerful antioxidants to find the one that stimulated the proteasome activity and iflavanoid Quercetin proved to have an overall excellent performance in boosting proteasome activity and cell regeneration in relation to the essential ageing bio markers which are: Regeneration and reversibility, total oxidative stress (free radicals) and survival activity of the cells under oxidative stress.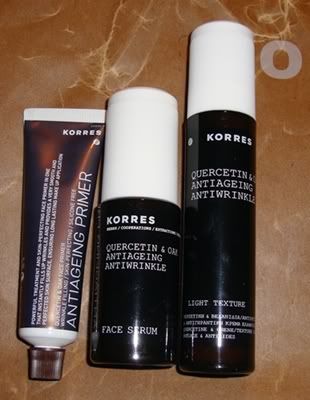 So that is how the Quercetin works and what the products do. The Quercetin & Oak line cancels out the theory that only conventional chemical anti ageing products give results. The products were also crash tested against the market's top selling conventional anti ageing creams and the Korres scored higher on hydration, elasticity, appearance and depth of wrinkles, smoothness and radiance. These trials were following strict guidelines, using laboratory equipment, with dermatologist supervision and testers were given unmarked samples so they were unsure which product they were using.
The new products:
Quercetin & Oak anti ageing and anti wrinkle light texture cream for oily skin
Quercetin & Oak anti ageing and anti wrinkle eye cream
Quercetin & Oak anti ageing and anti wrinkle firming face serum
Quercetin & Oak anti ageing wrinkle filling face primer which is silicone free
I was given the light cream, serum and primer so I will update after using them for a while with my results.
Korres Eau De Toilette
New for 2011 are Korres fragrances in Peonia/Vanilla/Amber/Pear and White Tea/ Bergamot/ Freesia.
My favourite is the one pictured above, it is a feminine scent without being sickly and sweet and girly, it's the perfect scent to wear for work or if you aren't really into tweeny type perfumes.
The synthetic free fragrances are inspired by nature and I have to say I can see me using this every single day it is delicious. The bottle is so cool as it looks like a medicine bottle (which it was intended to) and the white lid symbolises pharmacies and labs.
The top notes are: pear, apple, bergamot
The heart notes are: peony, jasmine, rose, patchouli, sage, peach
The dry out: amber, musk, sandalwood, vanilla
Character: Intensely feminine, distinct character

It was such an exciting event to go to and to meet Lena Korres was amazing, she is so stunningly beautiful in real life too.
Please note – if you are the person who asked me if ginger and vitamins foundation was being discontinued please be aware that it isn't! I made sure to check with two different people and they confirmed it was still for sale although still out of stock on Bath and Unwind website.
To see the fullest online range check out bathandunwind
Nars Matte Lipsticks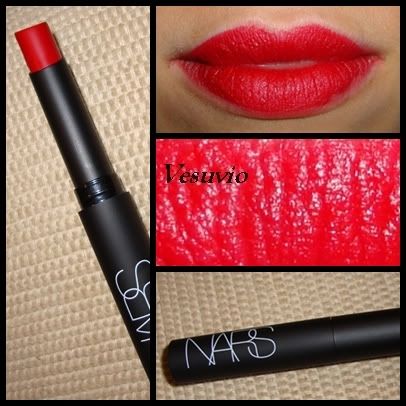 I then hot footed it over to Selfridges to be matched for my Nars Matte Lipstick. I was matched with the shade Vesuvio which is a perfect red – not too pink or too blue which is great for us who are rather neutral toned.
There are 6 shades overall in the range and the consistency is gorgeous. It isn't as drying as many other mattes and applies very quickly and smoothly. I would recommend exfoliating before using just to make sure the application is good and I was recommended to use a silicone based face primer (obviously the Nars one was used on me) to smooth the lips and make the colour apply even better. The pigmentation is amazing.
I was very impressed with this lipstick and the makeup artists at Nars were very helpful. I apparently have a diamond shaped face – who knew! I thought it was round?
The Nars Pure Matte Lipstick launches on the 1st September exclusively in Selfridges then elsewhere on 1st October. Cost is £18 each. Click here to buy
Overall a much better day than yesterday – well apart from when my smoothie exploded all over me and my car interior this morning – do these strange things ever happen to you? How on earth can I get rid of the smell of fruit in my car?!