Perhaps I should start calling these 'Sarah's Sunday Moan' because that's what it inevitably ends up as!
It's been a sucky month with the weather making me feel constantly cold and tired and as usual no sign of a holiday in sight so I indulged in some comfort shopping. New makeup makes me a happy shopper.
Mini Rouge Bunny Rouge Haul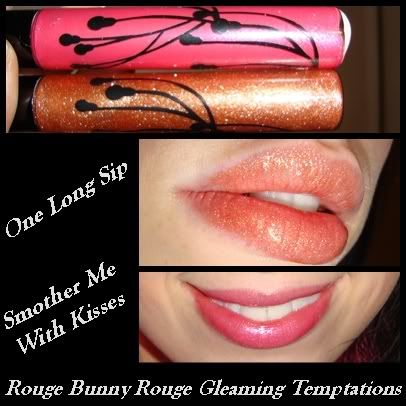 I wanted to try something different from the gorgeous Rouge Bunny Rouge range and I wasn't dissapointed. I went to my fave online makeup shop www.zuneta.com and ordered two of the gleaming temptations lipglosses and I am really pleased with both.
Smother me with kisses: creamy semi sheer fuscia with gold shimmer
One long sip: creamy pale warm brown with white pearlised shimmer
All rouge bunny rouge glosses are anti oxidant and anti ageing with the addition of
Vitamin E. Depending on the formula; these temptations hydrate, nourish
and regenerate with a cocktail of botanical goodies such as Sesame, Neem
and Boswellia Oils; Lotus Flower Extract, Gingko Biloba, Green Tea. I really love that these glosses contain such natural ingredients and it also means that after a day of wearing this and reapplying your lips aren't chapped or dry, they actually look better and more moisturised.

Korres Eyeshadows
I always get excited when I get new Korres goodies as I rarely dislike anything from the brand (I don't particularly like the Materia Herba Cleanser as it's too watery).
These four eyeshadows are withing my usual everyday neutral boundaries but the special thing is in the formulation, they contain sunflower oil for
its high concentration in lecithin and vitamins and due to its ability
to absorb moisture, it is an ideal ingredient for iridescent eye shadow
since it helps make-up remain intact on the upper eyelids and Evening Primrose oil which offers hydration and restores optimum moisture levels even in the most sensitive areas such as around the eyes.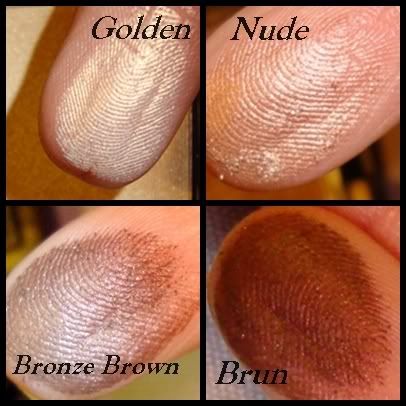 I have to say I love the shades apart from Brun as it just doesn't seem
to apply as well as the other three so I would personally avoid that
shade. It kind of looks a bit clumpy? The other three are gorgeous,
smooth, shimmering and apply with ease. I always use a shadow primer
but they did last all day.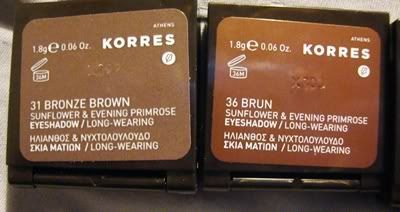 I love that the eyeshadow packaging is small and flat so you can easily stack them in your storage and they don't take up much room in makeup bags or handbags. Also they handily have a coloured sticker on the bottom so you can see the general colour.
Does anyone have any Korres or Rouge Bunny Rouge recommendations for me?